Wolf Parade's 'Apologies to the Queen Mary' Turns 10
The Montreal band's debut is a decade old, but still resonates.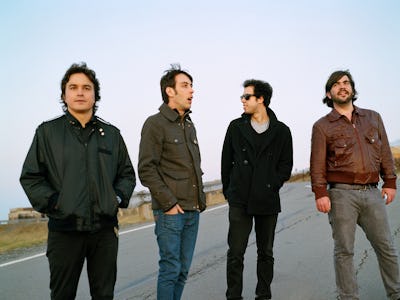 www.subpop.com/artists/wolf_parade
While the Arcade Fire gets all of the glory these days, the most fittingly understated band to come out of the blink-and-you'll-miss-it Montreal indie rock scene of the early aughts is Wolf Parade. Always acting like the slackers who actually gave a shit (as opposed to a Montreal band like The Unicorns who were the slackers who definitely never gave a shit), their debut record Apologies to the Queen Mary burned bright when it was released in September 2005 and cemented their understated place in the modern indie rock pantheon. Ten years later it's still there, firmly in the minds of the people that remember it.
The road to Apologies to the Queen Mary had inauspicious beginnings. Around the same time guitarist Dan Boeckner and keyboardist Spencer Krug were creating songs in Krug's Montreal apartment for separate bands, the pair were offered a surprise gig to open for another band they described as "a terrible Stereolab clone," and Arcade Fire. With only eight days to write a full set, they enlisted the help of local drummer Arlen Thompson — who would go on to play drums on the Arcade Fire's own debut record Funeral — to learn the songs the day before the show. The trio decided to make the band a full-time deal when the show went off without a hitch, an EP followed soon after in 2004, and they later added Hadji Bakara on synths to the lineup. They eventually signed to Sub Pop Records and began recording Apologies for its 2005 release.
The band's critically lauded debut burned up the scene fast and gradually faded while still leaving a mark. Their two follow up records, At Mount Zoomer and Expo 86, both still highly underrated, never managed to land with the resounding success as Apologies for some reason. Blame the opportunistic proliferation of online music sites eager to leave the old in the dust just in time to label the next big thing. Or blame it on the impossible precedent it set based on just how good the first record truly is.
Apologies to the Queen Mary showed a fresh new band spewing ideas outwards and basically hitting the mark with every track. From Krug's metronomic "You Are a Runner and I Am My Father's Son" to Boeckner's rollicking "This Heart's on Fire," there is nary a skippable moment. It's easy to give all the thanks to Isaac Brock, the Modest Mouse frontman and all around indie rock hero who produced the record, but that would be too reductive. Brock did lend a keen sense of separating Boeckner and Krug's strengths from track to track that gets lost in the two follow ups, but Apologies is so indebted to those strengths because of Boeckner and Krug, not in spite of them.
Krug's mad scientist yelps on "Grounds for Divorce" or Boeckner's yearning bark on "Same Ghost Every Night" make the name of the band a bit more appropriate than one ever realized. What gave Wolf Parade such an indelible mark was the way in which they poured recognizable indie rock sounds into their own sort of sonic Canadian contraption and made it their own. Krug latched onto the off kilter vocalizations of someone like Neutral Milk Hotel's Jeff Mangum or Frog Eyes' Carey Mercer (a band of which Krug is a former member) and turned it into a demented David Bowie experiment gone wrong but one that sounded so right. Boeckner's more straightforward delivery still managed to resemble an unhinged, whiskey-soaked third cousin of Paul Westerberg and Springsteen filtered through a punk lens. And then there were the lyrics.
Both songwriters defined opposite poles of a record filled with pure exploratory energy. The album's ghostly premonitions, gorgeous howling laments, and anthemic words are as deep as they are inexplicable. When Krug howls "Give me your eyes, I need sunshine/ Your blood, your bones/ Your voice, and your ghost," on the album's standout "I'll Believe in Anything," you can't really tell exactly what he's talking about, but you just understood it anyway.
Most of this deeply heartfelt but obscure aesthetic remains a collective remnant of the Montreal scene. Arcade Fire continues to do it till this day, and ex-Unicorns frontman Nick Thorburn continues to release personal records under his name and his Islands and Nick Diamonds monikers. But Wolf Parade reluctantly steered along that path with their friends until their indefinite hiatus effectively ended the band in 2011.
Through that time and up to now the members have eclipsed Wolf Parade's own output by putting out dozens of solo material in other bands like Boeckner's Handsome Furs and Divine Fits to Krug's Sunset Rubdown and Moonface. The sad part is that while some have come close, none could ever add up to the raw mutual power and distilled genius of Apologies to the Queen Mary.
Early-aughts context or not, it's a record that still stays with the people who listened to it 10 years ago, and will probably continue to live on. Wolf Parade has nothing to apologize about for that.