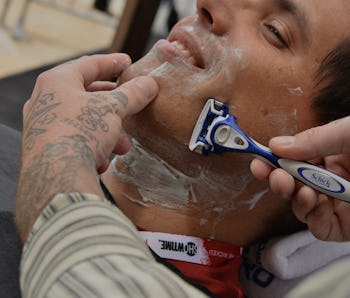 How to Shave Like a Fucking Adult 
Real talk about that nicked-up mug of yours. 
Getty
Buy a razor blade but not one of those rubberized 9-blade playthings that'll be decomposing in a landfill long after your firstborn's gone to his grave knowing daddy bent the knee to big shaving. Fuck an aloe strip. They got you twisted. The first blade shaves your beard, pulls off the shaving cream, and after that all the second, third, and fourth bits of precision glide steel bullshit are doing is scraping you raw like a preschooler with skinned knee. Buy a safety razor, stainless steel, double-edged blade, just like granddad used before he went out and got digits with nothing but a splash of Canadian Club, a smooth-ass cheek, and a pack of Lucky Strikes. Fill a sink with hot water, submerge the razor head in it, handle up, to let the metal get ready. Step in the shower. The next five minutes, you do you. Lather up, sing Sinatra, pumice those callouses, try your girl's shampoo, I don't care, it's your shower. But you step back out ready to face the blade.
Step back, towel off, and feel how nice and soft that stubble is. Now you're ready. Apply shaving cream. Pre-shave oil is horseshit and it's got no place in a man's world. Apply the razor to your face. Lightly. This ain't a tractor pull. We aren't trying to clear the thicket, just reduce it. Finish that. Now for the next level move. Ready for this nightcrawler, baby bird? Reapply shaving cream. And do a second pass.
You might be thinking: Damn, man, I got a commute ahead, how long is this going to take? That steamed-over clock on the wall says we've been here only a few minutes like some fool just switched on the Large Hadron Collider and BOOM your own pocket of space-time right where you leave the Irish Spring. You think that's crazy? You think I give a fuck with a face this baby-soft?
I'm already in your head, you son of a bitch.
Let the water drain out of the sink. Splash some cool water on your face to seal those pores back up. Refreshing, isn't it? Right about now your skin's wondering, "I'm sorry, did we move the bathroom to a clearing in a Colorado forest on a cool spring morning? Because it feels like a crisp mountain breeze just blew through."
Pat dry. Did I stutter? Did I say sm-sm-sm-smear dry? You think the world's gonna be gentle on you if you go rough? Grow the fuck up. No shame in a little post-shave lotion game, scentless, SPF-15 minimum. Just because we decided to groom like the big boys doesn't mean we're going to walk out of here smelling like a Japanese Peace Lily. This is about investing in us. Take a look in the mirror. That face. Now you can do anything with that face.