This Week in Podcasts: 9/14/2015 - 9/18/2015
The Inverse staff this week is listening to shows about analytics, video games, and even more analytics.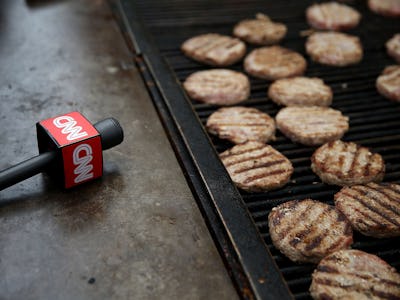 Justin Sullivan, Getty Images 
Summer is coming to a close and the Inverse staff is learning about numbers, videos games and real human feelings.
I'm continuing to toot the Shall We Play a Game? horn, the gaming podcast of JJ Sutherland and Chris Suellentrop. A refresher: Shall We favors conversational storytelling over AM sports radio-esque talking about nonsense, and at less than a half hour an episode you get an earful without wasting time. In the most recent episode they continue talking Metal Gear Solid V, but JJ's "audio Let's Play" is a highlight. A subversion of the Let's Plays that you're familiar with from South Park and Jimmy Kimmel, it's a unique extension of Shall We's ethos. JJ's walkthrough is incredibly engaging even with just audio, forcing you to imagine a highly visual medium. JJ does a better job at informing than almost every Twitch and YouTube streamer out there right now, which are mostly just kids yelling into their webcams. - Eric Francisco
While waiting for the next episode of Review and hankering for more Andy Daly, I decided to check out his Podcast Pilot Project #001: The Wit and Wisdom of the West with Dalton Wilcox. I was duly rewarded with tales of vampire slaying, cowboy poetry, and tunes from the criminally underdeveloped genre of comedy western music. - Ben Guarino
I generally find Marc Maron exhausting, but even haters have to admit that he has some can't-miss episodes and interviews. Last week, one of those episodes was released: an open, honest, funny and sincere talk with the actress Lake Bell where she kind of flips the table on Maron. Most of the great Maron episodes have unexpected twists, and when Bell asks Maron "Are you happy?", it enters the pantheon of those moments. - Corban Goble
Remember THE GODDAMN DRESS? This episode of What's The Point, 538's podcast devoted to explaining how numbers make the world go round, dives into how Buzzfeed made the dress go viral and how a brand like the NBA runs their Twitter page. Anyone vaguely interested in this post-content nothing matters media world should give it a listen.
I also wanted to give a shout to this 538 x Grantland collab podcast that focused on Josh Lynn, who works for a company that uses analytics to predict Hollywood success. Greenwald and Avirgan have a strong chemistry that makes me hope this kind of ESPN off-shoot collab can happen more in the future. - David Turner