Why Ryan Choi will become Atom by the end of "Crisis on Infinite Earths"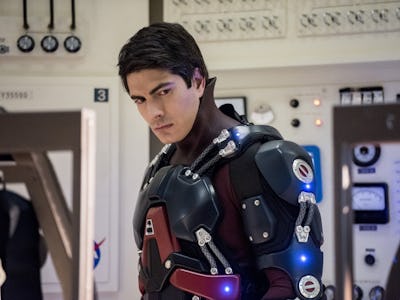 The CW
"Crisis on Infinite Earths," The CW's most ambitious Arrowverse crossover yet, has already served up a number of surprises and game-changing twists. In Part 3 of "Crisis," Ryan Choi is introduced as a Central City citizen of Earth-1. While Osric Chau was cast specifically to appear in "Crisis," Ryan may have a much bigger impact on the future of the Arrowverse than we thought.
The Flash revealed the remaining four of the seven Paragons who would be key in stopping the Anti-Monitor from destroying the Multiverse. Ryan was revealed as the Paragon of Humanity — which is fitting because he's the only one of the seven Paragons who is sans powers. However, knowing that Ryan is the third iteration of the superhero Atom means it's likely he'll take up the mantle by the conclusion of "Crisis."
But, wait. Doesn't Atom already exist in the Arrowverse? He does, and he's played by Brandon Routh. However, the actor confirmed back in October that he was leaving Legends of Tomorrow and the Arrowverse altogether. Ray Palmer, the literal ray of sunshine, was out. (Sidenote: the actor's departure is likely the reason why he played both Ray Palmer/Atom and Kingdom Come Superman.)
For some comic background, Ryan is the third iteration of Atom, a scientist, and a huge Ray Palmer fanboy. That was made very clear in Part 3 of "Crisis." The two were pen pals and Ryan ended up taking Ray's university position after his untimely disappearance. By following his idol's clues, Ryan inadvertently becomes Atom after finding Ray's belt.
While we don't know how Ray's exit will be explained or even if they'll kill him off, one thing is clear: the Legends might need another Ray-esque character to fill in the hole he left behind. There's no better person to do that than Ryan. After all, if a human with no powers was chosen as one of the Multiverse's saviors, then he can handle a super suit and the responsibilities that come with it.
Plus, there's really no other explanation for why Ryan was introduced in the midst of "Crisis," especially with so much going on. Ray could've been chosen as the Paragon of Humanity instead. Legends showrunner Keto Shimizu said a while back that the Legends characters that participating in ["Crisis"] land in a very particular place." It's possible she was referring to Ray's exit.
We also know that the Legends of Tomorrow episode of "Crisis on Infinite Earths" is not where the characters' arcs begin when Season 5 premieres. It's out of order with the rest of the season. While the timeline is confusing, there are two more episodes of "Crisis" that could explain why Ray would pass on the Atom suit to Ryan.
Shimizu has said that Ryan as the next Atom is nothing but "speculation." But now it seems there are too many clues that say otherwise.
"Crisis on Infinite Earths" will conclude on January 14, 2020 at 8/7c on The CW.