Broadband for All could revolutionize wifi in UK, if it's possible 
A new plan for British internet sounds like a revolution on paper. Experts say it's complicated.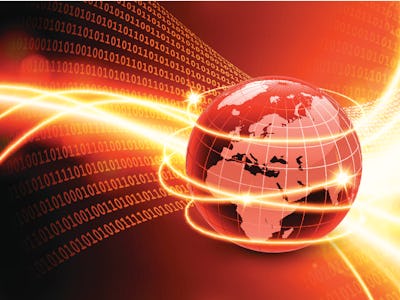 Getty
The British Labour Party wants to provide the United Kingdom with free, full-fiber broadband by 2030. It's a plan that could revolutionize how internet is used in England, Scotland, Wales, and Northern Ireland, which combined have a population of over 66 million people — but whether it can deliver is a hot topic of debate.
On Thursday, the party unveiled its manifesto for the general election scheduled for 12th December. Its plan for government includes a large-scale shift to renewable energy by 2030, strengthened workers' rights, a referendum on a renegotiated Brexit deal and a large-scale investment program. But on top of plans to nationalize water, energy, mail and rail, four pledges previously included in the part's 2017 election manifesto, it also included a plan to part-nationalize telecoms firm BT and offer broadband internet for free.
When the party announced the policy seven days prior, it sparked widespread discussion. Conservative Party prime minister Boris Johnson derided it as "crackpot" and BT's chief network architect Neil McRae dismissed it as "broadband communism." Commentator Ash Sarkar noted in The Guardian that the National Health Service, which offers free universal healthcare at the point of use, was met with similar derision prior to its launch in 1948.
When Inverse asked Alzbeta Fellenbaum, principal analyst for IHS Markit, a London–based data broker, what Labour's plan is and how it differs from the current setup, her first reaction was to laugh.
"It's kind of hard not to look at this and see it plainly as an election spiel and a stick to wave into the electorate's face," Fellenbaum says. "I would say that it is quite challenging to achieve […] to nationalize a broadband network and to provide a free broadband service on top of it."
It could prove a long shot. With elections held at least every five years, there's no guarantee that Labour would remain in government long enough to even complete its planned rollout.
But in a country where just eight percent of premises have access to full-fiber broadband, it could spark the interest of the 92 percent without access and help support other future technologies like 5G. And while some argue for a universal basic income to cope with rising job losses from A.I. and automation, experts like Steve Wells argue instead that the focus should be on providing universal basic services for all — naming broadband as an example of an ideal basic service.
Labour's broadband plan: how does broadband work right now?
Unlike the United States, it's best to consider broadband access as coming from two different entities: the infrastructure provider, and the actual service provider.
To understand the British broadband market, we have to take a dive into a company called BT. The firm calls itself the world's oldest communications firm, dating back to 1846 as the Electric Telegraph Company, which gradually expanded to include other telegraph firms. In 1870 these firms were nationalized and taken under the control of the General Post Office. In 1982, Margaret Thatcher's government formed and privatized British Telecom to open telecommunications up to private competition.
The country's communications regulator, Ofcom, decided in 2005 that BT's position was unfair. The company owned and operated the phone network, limiting the choices of consumers that wanted to get online. Openreach was formed in 2005 to enable fair network access to third parties, and in 2017 it became a separate company fully-owned by BT.
This makes the current broadband setup quite different from the United States. In the U.S., internet providers maintain the infrastructure that provides services directly to the home. This creates a monopoly in some areas, and in others leaves consumers with little choice about who to use as a broadband provider.
In the U.K., over 640 communications providers offer services through Openreach's network. A 2018 government report found that Opeanreach-powered providers cover 80 percent of the market: BT with 37 percent, Sky with 23 percent, TalkTalk with 16 percent, and the rest on four percent.
In 2010, Openreach started upgrading its old copper network to fiber-to-the-cabinet connections. These offered higher speeds, but the use of copper between the cabinet and the home limit their performance. Openreach has started rolling out a fiber-to-the-home network, which currently covers around 1.5 million homes. As of January 2019, around 95 percent of British homes could access broadband of at least 30 megabits per second.
So what if you don't want to use the Opeanreach network? There are two main exceptions to this. The first is Virgin Media's network, which uses its own cable network. It's available to 45 percent of homes, and the company commands 20 percent of the market. The other is fiber-to-the-home networks more akin to the American model, where firms like Hyperoptic sell internet access directly to the consumer. These comprise less than one percent of the market.
Labour's broadband plan: what is Labour proposing?
The party's manifesto states that it would establish a new, publicly-owned firm called British Broadband. This would have two arms: British Digital Infrastructure, essentially taking on the role of Openreach, and the British Broadband Service, which would offer the actual internet service to consumers.
The manifesto states that it would bring broadband-relevant parts of BT into public ownership, generally assumed to refer to Openreach. As part of the transition, Labour would also offer "a jobs guarantee for all workers in existing broadband infrastructure and retail broadband work." Openreach alone employs around 32,000 people.
"Apart from some parts of London and some of our major cities, everywhere I go, they're saying, 'oh, we've either not got broadband or the speeds that we need, it's holding our economy back'," John McDonnell, the party's shadow chancellor, essentially the financial spokesperson, told the BBC.
The party is aiming to offer "free full-fiber broadband to all," assumed to mean fiber-to-the-home. BDI would be tasked with rolling out the final 90 to 92 percent of this network and acquire the needed rights to existing infrastructure. The rollout would start with those worst served by current networks.
Labour's supplementary funding booklet cites figures that suggest operating costs would equate to around £230 million ($297 million) per year due to efficiencies in fiber. This would be covered by a tax on big tech firms, calculated as a percentage of sales in the U.K. and global profits, estimated previously by McDonnell to raise up to £6 billion ($7.7 billion).
Taking a firm under public control, the party claims, would be "fiscally neutral" as bonds would be exchanged for shares like in previous nationalizations. McDonnell told Channel 4 that the parliament would set the price of compensation.
The party would raise the current government's planned £5 billion ($6.5 billion) broadband strategy to £20 billion ($26 billion), using funds from the planned £250 billion ($323 billion) Green Transformation Fund.
As for the consumer? It's expected to save them £30 ($39) per month.
Labour's broadband plan: is it feasible?
Labour's plan is essentially two ideas: free broadband, and a full-fiber rollout by 2030.
"I think it is feasible," Fellenbaum says, referring specifically to the rollout of full-fiber by 2030. "I think, actually, it does not differ from the previous Conservative government's plan, which was [to deliver] nationwide [fiber-to-the-home] coverage by 2033."
One case study that has become a regular point of comparison is Australia. The National Broadband Network, or NBN, was launched in 2009 with the goal of full-fiber to 93 percent of homes for $49 billion ($33.4 billion). It's since expanded in cost and reduced in size, and Bloomberg decried it as the "blunder down under." The Guardian, however, notes that Australia is 32 times larger with one-third less people, and the NBN was started when the vast majority only had copper connections. British Broadband would be taking over at a point when fiber-to-the-cabinet is commonplace, which brings it much closer to the end goal.
Proponents of the privately-owned model argue that Openreach has helped improve the end product for consumers. Matthew Howett, founder and principal analyst at Assembly, said in a statement that "the almost cut throat competition between broadband rivals has meant faster speeds, improved coverage and lower prices for consumers up and down the country." It's important to note, however, that research from price comparison site Cable ranked the U.K. 21st out of 29 in terms of cost-per-megabit internet access.
A report from consultants Frontier Economics analyzed the prospect of a fully-nationalized full-fiber network. It found that it could result in a lower cost of capital, but with lower quality and innovation and potentially challenging to implement.
However, there are some question marks around the free British Broadband Service. What would happen to the competing internet providers? McDonnell suggested after the announcement that they could be nationalized as well: "We will come to an agreement, if necessary they can come within the ambit of British Broadband itself."
Fellenbaum notes that flicking the switch could be easier said than done. With firms like TalkTalk and Sky having invested in the Openreach network, she suggests the government may have to offer buyouts or even face legal action over those firms suddenly losing their market. Indeed, the Frontier Economics report noted that there could be a three-to-five-year waiting period before the rollout gets fully underway.
Labour's broadband plan: what are the other parties offering?
Prime minister Boris Johnson pledged over the summer to roll out full-fiber broadband to every home by 2025. This was seemingly revised by September to simply "gigabit-capable networks to the hardest-to-reach 20 percent of the country," which can also cover technologies like 5G and DOCSIS 3.1 cable communications. It's expected to cost £5 billion ($6.5 billion) over the stated period. The Conservative Party has not released its manifesto for the forthcoming election at the time of writing.
The Liberal Democrats, meanwhile, have pledged a less precise "program of installing hyper-fast, fiber-optic broadband across the UK — with a particular focus on connecting rural areas."
Whether Labour will be able to implement its proposal is unclear. At the time of writing, the Britain Elects poll tracker has the Conservatives on 41 percent, Labour on 29 percent, and the Liberal Democrats on 15 percent.