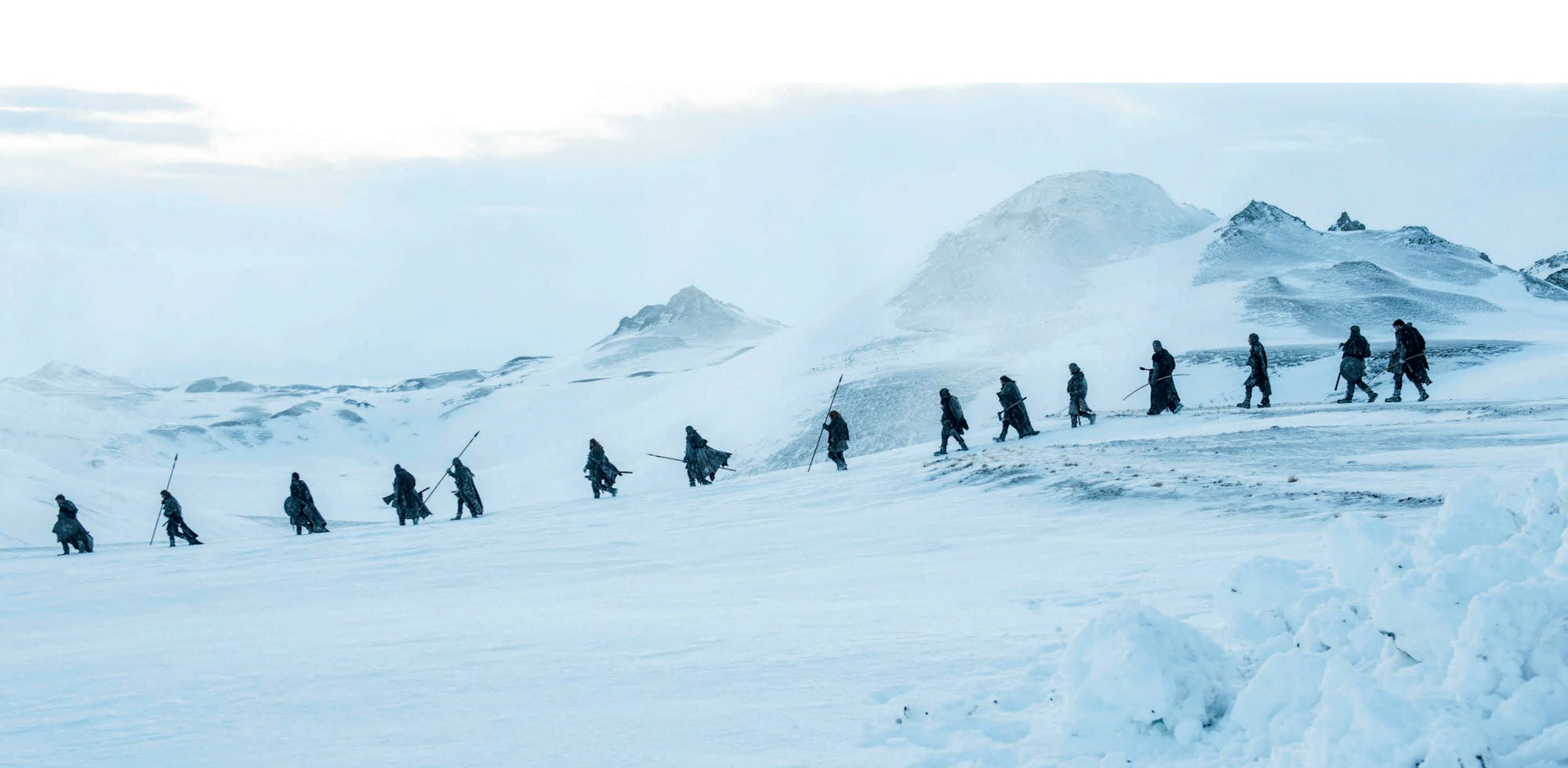 Entertainment
'Game of Thrones' photographer Helen Sloan knows all of Westeros' secrets
The "Sloan Ranger" talks avoiding spoilers, running across Northern Ireland, and a typical day on the set of 'Game of Thrones.'
Insight Editions/HBO
Think you're an avid shutterbug with an expert eye for detail and composition? Perhaps, but you still can't hold a lens cap to acclaimed Irish photographer Helen Sloan, whose epic body of work helped chronicle all the murder, mayhem, and majesty behind HBO's Game of Thrones from the doomed original pilot to the controversial series finale.
Sloan was the principal stills photographer for Game of Thrones throughout its entire historic run from 2011-2019. Her enviable skills captured thousands of indelible images ranging from panoramic battlefields and behind-the-scenes playfulness, to intimate character moments and special effects secrets.
However, her biggest challenge may have been compiling all those millions of photos into a single book.
"Going through hundreds of thousands of images in a short space of time is really quite a feat of endurance and focus," Sloan tells Inverse. "I'm glad we are only doing one volume! As I looked through the crew photos and saw all the faces of the crew who have become family to me. I looked at the actors and artists who have shaped my craft. It was really an epiphany moment. This is the job of my life. This is the one."
The end result is a regal new coffee table book from Insight Editions titled, The Photography of Game of Thrones, which was recently released to house the glorious volume of work amassed by Sloan and her photography team in their eight-season association with the medieval fantasy phenomenon.
This prestigious 416-page edition is fortified with 850 images curated from an archive of 1.5 million cast and crew photos, showcasing characters like Tyrion, Daenerys, Sansa, Cersei, Jaime, Brienne, Arya, The Hound, Ned Stark, and Jon Snow. It's handsomely presented in a deluxe 9.75×13 inch format and also offers a foreword from Game of Thrones showrunners David Benioff and D. B. Weiss in which they praise Sloan's ability to capture iconic snapshots and call her "our very own Sloan Ranger."
In an email interview, Sloan shared her experiences snapping memorable publicity and promo images, explaining how she chose her subjects, handled the task of wrangling her Game of Thrones team, and revealed some of her favorite photos throughout her career-defining time with the production.
The following interview has been edited for clarity.
"Each image comes with a set of additional memories."
Inverse: I understand part of the original Game of Thrones pilot that had to be reshot and recast. What was that experience like? What do people not know about that process?
*Helen Sloan: I think people know very little about the process of recasting. Same goes for the crew. There are many reasons why someone might not be able to continue on when a show goes to season — often there can be a big break in between — but I definitely wouldn't be involved in that process. I think it's cool to have been part of one of TV's lovely little secrets. I'll never say a word! The images are in a vault!
Approximately how many photos did you take over the entire course of the show?
Over a million. There were set stills, behind the scenes, poster shoots, props and costume photoshoots… so many photos. And the strange thing is, my brain seems to have a recall on them all. Like, if someone asks, I can usually remember what I have!
For me it's pretty intense because each image comes with a set of additional memories. What happened on set that day — and I can tell you now — a lot happens to a crew in ten years. We were really a family. So when we look at the images, not only do we remember key moments in the storyline, but we can also be really moved by thoughts of the good old days. Fun times with our GoT family who are all scattered back across the globe again. It's really still quite emotional to think about it.
Are you involved in any of the spin-off shows, the canceled Naomi Watts prequel or House of the Dragon?
I was on the pilot of the prequel, but again, I know nothing.
What struck you as most surprising after going back through 8 seasons of photos for this book?
How emotionally taxing it would be. And also watching all the younger cast become adults. Watching the show evolve. It was an amazing process - but also I think my brain might have tried to escape out my ear a few times. Going through hundreds of thousands of images in a short space of time is REALLY quite a feat of endurance and focus. I'm glad we are only doing one volume! I also started to realize the huge impact the show had on my life as I looked through the crew photos and saw all the faces of the crew who have become family to me. I looked at the actors and artists who have shaped my craft. It was really an epiphany moment. This is the job of my life. This is THE ONE.
What was your process to avoid spoilers? Were there any photos you loved that couldn't be released at the time because of spoilery details?
Oh my goodness yes. There were a few times when I thought to myself, "What are they going to be able to release." Everything felt like a spoiler… and it was like that for a lot of the later seasons. And when I did shoot deaths, plot points, new costumes, or new key sets, I was super aware that I was the ONLY person that had that material for a time. That's pretty nerve wracking! Then when I would deliver the shots to Vicky, the photo producer in New York, she was always like "OH MY GODDDD" because of course she was working remotely in NYC and not on set with me. It was pretty cool when she had those reactions. We both loved the show - which is a bonus of course! It's nice to be a part of something that you really think is brilliant.
In your opinion, who had the best fashion on Game of Thrones?
Hmmmmmm. Well that's hard to say because everything Michelle Clapton designed was amazing. The costume department was a force to be reckoned with. It used to fascinate me just walking through the workshops and seeing the process from start to finish — and how many people and skills were involved in making just one garment and its accessories. Design, dyeing, ageing, breakdown, patterning, cutting, sewing, finishing, embellishing, metalwork, armour, weapons, dressing… I'm quite sure I've missed something, but each one of those things are done by a team.
The amount of talented artists and technicians on the show was staggering. Like art on an industrial scale. I learned some new clever little trick every day. How lucky we all were!
But if I had to choose a "look" I think Cersei's gowns were always utterly amazing. However, I loved all the frozen lake costumes. The textured furs. Amazing. And the wonderful thing about GoT is that every item looks amazing up close. No corners were cut. Astounding work. Right down to the tiniest little embroidery details by Michele Carragher. That's why I did such close macros on the costume shoots. I decided to light Clapton's costumes like they were a piece of art. They deserved it. You can see all the detail work in Michele's book, The costumes of Game of Thrones.
How did a typical day on set unfold and how did you split your time between different sets?
To be honest there is no typical day on set. One day I can be in a nice toasty studio shooting an easy scene with coffee nearby and home at 6pm. The next week we could be on top of a glacier at 5 a.m. in minus 25 degrees and gale force winds. We might be shooting a nice scene of everyone milling around Winterfell in the pretty fake snow, or we could be on 55 consecutive night shoots in a muddy freezing field in the middle of nowhere setting people on fire.
When we were shooting Wolf and Dragon units - I would read the "sides" for those days, and the call sheets and decide which scenes were going to give us the best value. Sometimes, however, we would want both and so I did a bit of scooting between the two. Often my assistant Trevor would be relaying info to me from the other set and standing by… but sometimes we had both units shooting in one studio, and those days were great! I could just run back and forth! Northern Ireland is great because its relatively small but the landscapes are very varied. So oftentimes, it's very easy to get quickly from Dragonstone to Essos in less than an hour. Who needs dragons?!
What did you love most about working on the show and do you have any personal favorite images?
I think all the top favorites made it into the book. I managed to get my own photographs down to around 900, and 50 from our stellar additional photographers - who I felt had to be included of course.
I have SO many favourite images. Some because of the actor, some for the scene, some because that was a crew members birthday or something funny happened that day. Some because they jog memories of personal things in my life. I'm so close to all the images - it's almost impossible for me to choose. We had such a chaotic time with the cover of the book - and what would be on it. Everyone had favourites images, favourite characters or iconic moments. But in the end it had to be The Throne. She started all the trouble after all!
The Photography of Game of Thrones is available now.