New leaked 'Eternals' set photos may be the key to Kit Harington's role
They seem to confirm a long-standing rumor.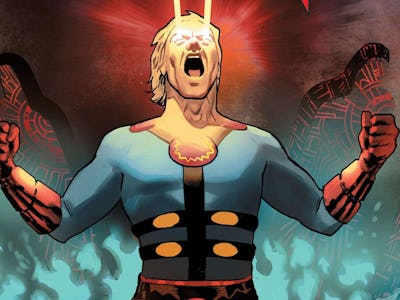 Marvel
With every new round of leaked set photos, it feels like we're learning a little bit more about the shape Marvel's upcoming The Eternals might take. Recent leaks have shown us vast, ancient structures seeming to resemble tombs and architecture that draws heavily from ancient Egyptian and Mayan design (with a hefty dose of the cosmic). There's also been a leak of a set seeming to depict the ancient city of Babylon.
We already know that this movie will be something of an expansive epic that covers thousands of years in the Marvel Cinematic Universe, so it's always been safe to assume that the previous set photos that have leaked have been for scenes that will take place in the distant past. Recently though, some leaks revealed sets that will likely take place closer to the present.
Twitter user @eternals2020, a fan page set up to cover the production of the film, recently revealed a new round of set photos that seem to depict the way in which the Eternals' past will be uncovered: an archaeological dig. Tents and dig sites adorn the set, as do what appears to be the beginnings of the discovery of ancient ruins. The set is on the same site as the Babylon setup. So it feels safe to assume that there's a connection between the two.
It's also easy to connect the dots here for anyone who's been keeping up with news surrounding the film. The rumor is that Kit Harington's Black Knight will be an archaeologist who discovers evidence of the Eternals on a dig. What we see in these photos is almost certainly his dig site — especially considering news that the actor recently arrived in Fuerteventura (the site of these sets) to commence with filming. No actors are present in these photos but don't be surprised if we see Harrington's first on-set appearance leak sometime soon.
The pieces are beginning to fall into place for Eternals. We'll be sure to keep you updated on the next round of set photos as we piece together just what exactly is going on in Marvel's upcoming cosmic epic.
The Eternals releases November 6, 2020.