The Best Blenders in Every Price Range
Say goodbye to blenders that barely get the job done.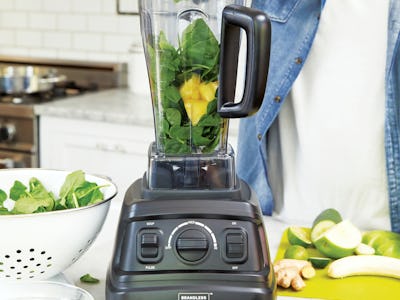 Unsplash / Brandless
Every household would benefit from the introduction of a good blender into its arsenal of kitchen appliances. Whether you're the type to really get into milkshakes or smoothies for a couple weeks at a time, or you are going to a soup for dinner every night phase, you want a blender that gets the job done without the smell of an overworked motor—or leaks, or uneven chunks, or any number of quality control issues associated with lower performance blenders.
Kitchen appliances can cost a pretty penny. All you have to do is quickly browse Bed, Bath and Beyond, Kitchen Kapers or any other department store to get sticker shock. But you don't need to have a industrial strength commercial blender that cost as much as your mortgage payment to have a high performance kitchen.
Instead, you can shop for a blender in any price range and rest assured that the proof is in the pudding. For each of the below blenders, reviewers sing their praises and you'll be left wondering how you lived without a good blender for so long. Below, you'll find the best blenders for every price range.
Why We Picked It: A brand-new Vitamix Blender will put you out half of a grand, but a "renewed" and refurbished option is at a slightly more modest price point for those willing to spend in the neighborhood of $300 on a blender. For all the perks of a brand-new Vitamix Explorian Blender, investigate this option. It's designed to be high performance with heavy duty hardened stainless steel blades, can replace your food processor with its variable speed control perfect for achieving any texture and the low profile 64-ounce container is both compact enough to not take up too much cabinet space while also being able to handle a sufficient volume. Not only that but it's super easy to clean by simply adding warm water and a drop of dish soap, powering it on and dumping out the contents. With all of those specs in mind, this blender will last you a lifetime.
What Reviewers Say: "A friend of mine kept telling me I HAD to get a Vitamix blender. I already have a Blendtec (you know, from the "will it blend?" vidoes?). I told her I felt no need for two high-end blenders. She kept insisting I needed to try Vitamix. This, coming from the woman who mocks me for having more coffee makers in my home than I do people. I'll admit, I was always intrigued as to her insistence but never quite understood her insistence and hadn't gotten around to ordering one. When I saw this I grabbed it and I can tell you, there IS a difference."
Why We Picked It: A cousin to the Vitamix Blender, you might know the Ninja products best from late night infomercials. Now hailed as one of the best affordable blender options on the market, this Ninja Professional Countertop Blender is compact enough to sit on your counter without hogging on the space, has a 1100-Watt base that'll cut through anything to achieve your desired result and it's dishwasher safe. The set comes complete with a 72-ounce pitcher for making big batches of soup, smoothies, sauce and more as well as two 16-ounce to-go cups you can use directly on the base to minimize clean up on your way out the door.
What Reviewers Said: "We replaced an expensive blender ($400) that died after 5 or 6 years (old blender died with metal shot flying out everywhere) with this blender. We researched many more expensive ones and then decided to try this one verses buying another $400 or $500 blender. It is very powerful and straight forward to use. It is powerful and easy to clean too. We really like the cups that come with it for a quick personal smoothie! The design for pouring is very nice also! We have had no issues chopping up ice, ice cream, sherbet, yogurt and fruit (apples that were sliced, bananas, avocados, pears that were sliced, strawberries, raspberries, blue berries, celery, peanut butter, peanuts and a lot more. It has been two months using it and we really are glad we purchased this blender as it does everything we need - smoothies, shakes, deserts, puddings and energy drinks!"
Why We Picked It: Not every blender needs to be able to feed a family of 5 to be worth it. This high speed single serve blender from NutriBullet comes complete with 12-must-have pieces that'll make milling, chopping, pureeing and making smoothies an absolute breeze. It can handle whole ingredients with ease and then go right out the door with you or into the dishwasher for mess-free clean up. Because of this, it's Amazon's Number 1 Best Selling Blender.
What Reviewers Say: "Not since the microwave has a kitchen appliance been such a life changer. I bought my first Nutribullet two years ago, and found it to be ALL THAT and a bag of kale."