6 Men's Scarves That Elevate Any Outfit—And, Yes, Keep Your Neck Warm
A scarf will keep you warm even when your coat is inadequate and it will make you look awesome!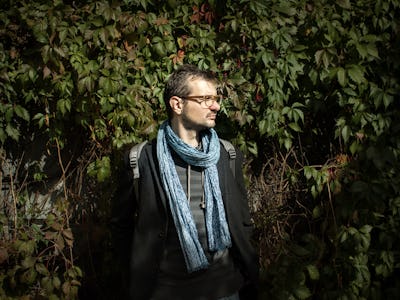 Unsplash / Irena Carpaccio
Scarves are the workhouse of a wardrobe. They do a surprisingly good job of keeping you warm. So they can extend the life of a jacket that's not quite warm enough for the weather. You can get away with a sports jacket or your favorite leather jacket well into the cold weather just by adding a scarf. Wear it. Or stuff it in a backpack in case it gets cold. It's genius.
But a scarf will also make you look awesome. If you're wearing all black, a bit of color can make you look less like someone on an emotional downward spiral. Or a black scarf—on top of that all-black ensemble—can emphasize a nihilistic fashion statement.
What other item in your closet can do so much for so little? Get yourself some of these.
We found some great scarves that look awesome, keep you warm, and won't cost too much money.
For this price and with this many color choices, you could probably stop here for your daily staple scarf. It comes in solid colors, plaids, hounds tooth, stripes, and more in every basic shade.
This scarf is made of acrylic. So it's easy to wash, easy on your skin if you find wool scratchy, and inexpensive. If you are new to scarves, start here. If you tend to lose them, buy several.
If you want to stay warm, go for wool. And if you want to stay really warm and stylish, get yourself some Irish wool. With great stitching and a fine wool, this one is a winner. It comes in three colors and will take whatever outfit you might be wearing and make it warmer and a lot more presentable.
And, thanks to the marvels of importing, this isn't even terribly expensive. This is a scarf you will have for years and mourn if you lose it.
Stumped by scarf knots? You don't have to worry about any of that with an infinity scarf. They are a loop. Just put it over your head, maybe twist and go over your head again and it's on. It's also staying on. No losing your scarf in a high wind or while running for the train.
This one makes a firm statement in a chunky boucle knit. And it's a wool blend so it will keep you warm but also survive the washer and a lot of wear.
Bonus: It's super affordable.
The neck gaiter is the scarf reduced to it's basic elements. It's the neck to a warm turtleneck that you can take off without getting undressed. It's a brilliant piece of warmth that will fit in a pocket. And it will make you look distinguished and all classed up.
This one is from Smart Wool, which does something magic to the wool that makes it super comfortable even for those of us who can't stand the feel of wool against our skin.
Cahsmere is legend for how warm and soft it is. This scarf is a blend of wool and cashmere, which is why it's a reasonable price. But it's a great looking, warm scarf that will dress up whatever you are wearing in a classy, understated way and it will offer serious warmth.
It comes in ten great, muted colors so you could have a few of these and no one would ever know that you stocked up.
A scarf made from real cashmere is expensive. One made from high-quality cashmere is very expensive.
This is a reasonable compromise for those of us who want a pure cashmere scarf but who also have student loans, rent, and food to worry about. It comes in plenty of colors. It's delightfully soft and warm. And it will look amazing on you.