4 Ultra-Soft Men's Sweaters That Will Make You The Most Huggable Dude Around
So soft, you probably won't be able to resist hugging yourself.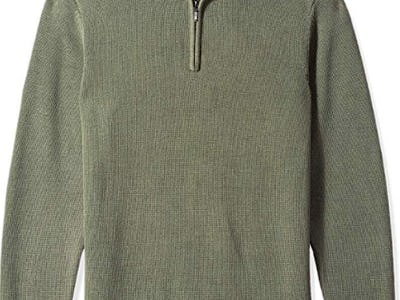 Amazon
If you're not a fan of cold weather, this isn't exactly the best time of year for you. Gone are the days of breezy shorts, casual t-shirts, and never having to layer. The plus side? We can trade those sweaty days for cozy ones. And nothing makes cold weather bearable quite like a warm sweater. For a sweater to reach peak perfection, it need to be warm, not to bulky, and most importantly, SOFT. We're talking like butter soft. Like melt into a puddle of pure joy soft. To help you get super cozy this winter, we pulled together some of the softest sweaters that range from super casual to professional.
Stylish and Soft.
Look like a young Jeff Goldblum in this cozy, slim fit soft turtleneck. The color is rich and luxurious for fall, and the material is super light and cozy. The thick turtleneck is perfect for keeping the chill out, and even better for snuggling in and reading a good book. The sweater comes in 18 different styles and colors and ranges in size from a small to a XXL.
Distinguished and Soft.
This simple pull over is perfect for nearly any business casual occasion or even weekend brunch. Being 100% cotton, it is 100% itch free and is midweight, so it will keep you just the right amount of warm. Available in 15 different colors, you can snag one for each day of the week. And believe us, once you put it on, you're going to want one for each day of the week.
3. Casual and Soft
Everyone needs a basic sweater in their closet. This one can work on it's own with a pair of jeans or be pulled over a button up shirt for a more polish look. This slim fit pullover is available in just two colors, but has a size range of small to extra large. Keep in mind that if you want a more relaxed fit, you'll likely need to go up two sizes. This sweater is also perfect for people who don't like bulk — it's very lightweight and great for layers.
4. All Occasion Ready and Soft
Work? Interview? Party? Casual Saturday hang with the dudes? This sweater works for it all. The thick v-neck collar gives it a bit of of an elevated style look and its knit fabric makes it magically soft. Its available in 13 different colors, and is made of 100% cotton so be sure to hang dry this one!