The 4 Best Electric Blankets For Extra Coziness This Winter
These blankets bring the heat this winter -- literally.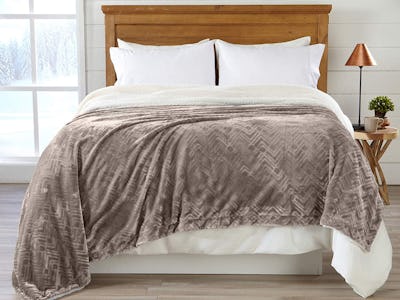 Amazon
Winter is creeping up on us like a snake in the proverbial grass. Before we know it, it'll be weeks of overcast mornings, slushy conditions outside, and we'll be wishing we were a hibernating sort of species in no time. Sadly, checking out and curling up in a cosy cave for 6 months isn't an option, so we need to make due with what we've got. One of the best ways to survive winter is to invest in all of the things that keep you cozy. While a blanket is certainly snuggle approved for winter, you can take it to the next level by getting an electric blanket. Not only will your couch curling up sessions be blissfully comfortable, they'll be toasty warm too. And once you invest in an electric blanket, you'll never go back to a regular one again.
This Sunbeam Electric Heated Fleece Throw Blanket will definitely keep you nice and toasty. Mae with fleece, this heated blanket features 3 heat settings with an easy-to-use controller. It delivers consistent heat that you can adjust at any time. It uses thin, flexible wires for better heat distribution while remaining virtually undetectable (and therefore, more comfortable). The best part though is that is has a convenient 3-hour auto-shutoff so you don't have to worry about it burning down the house. It is also completely machine washable and dryer safe, so you can keep yourself wrapped up and warm all winter long and not suffer hours of separation from it due to it being at the dry cleaners.
Made of flannel and sherpa, combining this blanket with evenly distributed all-over heat makes it extra super cozy. At 50-60 inches long, you can completely wrap yourself in earm, and control just how much heat with an attached controller. It has built-in overheating protection and automatically shuts off after 4 hours for peace of mind.
Perhaps you're one of those people who are always cold — at home, at the office — wherever. This electric poncho is perfect for you. It wraps specifically around you like a real poncho, but allows you to turn the heat up or down as needed. This way, you can take the warmth with you while you're sitting at a desk without it slipping off you.
For anyone who routinely drives for a living or just freezes their butt off in the car, this electric blanket is designed to keep you comfortable on the go. To use, the power cord simple plugs directly into car, truck, SUV or RV 12 volt cigarette lighter or power outlet and then can be set to one of three settings for the perfect temperature. It's also perfect for anyone who likes to camp out or tailgate!