Ronda Rousey Takes Over for Patrick Swayze in 'Road House' Remake
She's probably the best choice to update the cheeseball classic.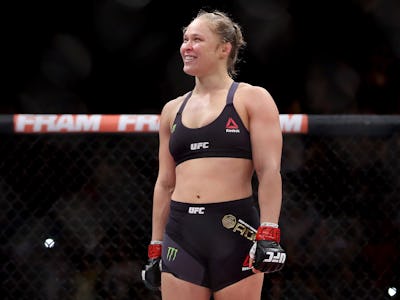 Getty Images
She's already dominated the UFC and now Ronda Rousey is ready to kickstart her movie career. After appearing in movies like Entourage, The Expendables 3, and Furious 7 (and announcing her intention to star as herself in her own 8 Mile), Rousey is set to tackle a remake of Road House. Rousey will take over bouncer duty from the late Patrick Swayze. She will then, one assumes, kick people.
The cheeseball 1989 original saw Swayze going by the name of Dalton and playing a zen loner with an NYU philosophy degree. He works as a bouncer because — for some reason — he wants to turn around a Missouri dive bar called The Double Deuce and protect the locals from a dastardly businessman played by the great Ben Gazzara. There are no specific plot details on the remake as of yet, but don't expect the premise to veer far from the same basic storyline. Variety is reporting that movie studio MGM is currently enlisting a group of screenwriters to pen the script.
Any fan of the original would call blasphemy at hints of a remake (let's not mention the crime against taste that was the 2006 sequel, Road House 2: Last Call). Road House is the kind of movie so outrageously of its time that there's no way to beat the campy ridiculousness. Yet Rousey's inclusion adds unexpected charm to the ass-kicking proceedings. Her charisma and experience in MMA fighting will definitely sell the part of an introvert bouncer who could thump you senseless. The only problem is acting — traditionally a priority in movies.
Her other roles quite rightly stressed her punches and kicks more than her dialogue, and that's fine, to an extent. But having to carry an entire movie is a stretch at this point. Hopefully starring in her own biopic will give her the trial run she needs before taking over for Dalton. Still, it's not like the original was some Oscar-winning tearjerker. This is Road House we're talking about.
Rousey has one more MMA fight in January before she'll join the production of the Mark Wahlberg CIA thriller Mile 22 next year, with her biopic and hopefully Road House after that.