The 9 Best Duffel Bags For Travel
For a weekend getaway... or even to go home for the holidays.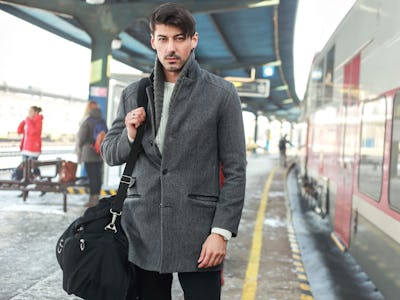 Shutterstock/Olena Zaskochenko
When you're traveling, duffel bags can often be a great alternative to standard suitcases. The best duffel bags for travel offer a happy combination of style and functionality. As you begin shopping, you'll want to consider the following :
Durability: You don't want your duffel bag to fall apart after the first trip. Look for tough fabrics like oxford, nylon, or canvas — and read the reviews carefully to see how it holds up over time. As a bonus, it's great if the material is water-resistant, too.
Flexibility: While some folks prefer the structure of more rigid bags, others want the flexibility of a bag that folds up small when empty — it's really a matter of personal preference. Just keep in mind that stiffer bags usually protect your belongings better while thinner bags allow more oddly shaped items.
Comfort: Features like padded straps or adjustable components help with this. It's also nice if your bag offers alternative carrying options such as backpack straps or rolling wheels.
Lastly, don't forget size. Weekend road trips will require a different bag than long, international flights, so think about how you typically travel. If you're flying, are you looking for checked luggage, a carry-on bag, or a personal item? Most domestic airline restrictions for a carry-on are roughly 22 by 14 by 9 inches, while international airlines are even smaller. To play it safe, you should always check the airline's specific restrictions before flying.
Keeping these considerations in mind, take a look at the best duffel bags for travel below.
This Sophisticated Carry-On Duffel That's Perfect For International Travel
Dimensions: 18 by 10 by 8.25 inches
The lowdown: This lightweight carry-on luggage is the perfect duffel bag for international travel because it's only 18 long, offering you the maximum amount of space on most foreign airlines without having to check it. The sleek bag is built with durable ballistic nylon and designed with a sleek aesthetic that features an easy-access zipper in the front and a removable, TSA-approved toiletry pocket inside. It has an adjustable strap for comfort and only weighs 2.2 pounds. Just note that its small size means that you won't be able to pack too much in it.
Proof from fans: "This Duffel bag is perfect for the weekend trip or as a carryon if you are bringing other luggage along. It can slide over the handle of a rollerboard and it can easily fit in the overhead bin on a Regional Jet. In some cases you can cram it under the seat too if it's not packed too tightly. I like the variety and number of zippered pockets and the clear plastic, zippered waterproof toiletries bag inside is TSA [compliant] and easily comes out of the bag when you are going through security."
A Casual Canvas Duffel Bag That's Thick Yet Lightweight
Dimensions: 17.75 by 11 by 9.5 inches
The lowdown: Constructed with thick, rugged canvas on the outside and a soft nylon interior, this Filson Field Duffel is a fantastic bag that feels solid yet doesn't add much weight. It's strong and durable but doesn't have the rigid design that some canvas bags do, and fans say it's water-resistant, as well. It has soft handles for easy carrying and an adjustable shoulder strap. On top of that, it features a strong zippered closure system and a casual, low-key aesthetic. Best of all, reviewers say it's ultra-comfy to carry.
Proof from fans: "Amazingly durable bag!!!! I use this bag on my weekly travel and it's super comfortable. I would recommend this bag to anyone."
A Sporty Gear Bag That's Surprisingly Spacious
Dimensions: 34 by 18 by 16.5 inches
The lowdown: This Thule Chasm is a wonderful duffel bag for travel, not just because it offers a roomy 130 liters of space, but because it does so without feeling big or clunky. In fact, multiple reviewers commented on how "deceptively large" it is, offering tons of room to pack your things without appearing too big or unwieldy. On top of that, it's extra water-resistant; it's not fully submersible, but it provides reliable protection during moderate rain. The bag is built with robust tarpaulin fabric and lockable, zippered side pockets for small objects. It also converts into a backpack for extra comfort and versatility, and the padded bottom keeps your valuables protected. It comes in three smaller sizes, too, including a 40-liter option that should be small enough to work as a carry-on for most domestic airlines.
Proof from fans: "I bought this bag primarily for air travel - I take a lot of 2-3 day business trips and needed something durable, deceptively large, and slick looking enough for business as well as leisure trips. This bag is everything I wanted it to be. I can fit 2-3 days worth of business clothes. I just used it to pack for a week long trip at the beach, minus shoes. I use the shoulder strap or duffle straps when traveling in a suit, looks sharp. When I am traveling for leisure I use it as a backpack. As a carry on it fits perfectly in the overhead bins, takes up less room than normal carry-ons. It also slides under the seat nicely if you have to do that, it just can't be overstuffed since airline seats are shrinking day by day. I highly recommend this bag, its been all I wanted it to be."
This Wheeled Duffel Bag That You Can Either Roll Or Carry
Dimensions: 22 by 12 by 12 inches
The lowdown: For those who prefer rolling luggage, this Solo travel bag ranks among the best rolling duffel bags for travel. It's built with a regular duffel bag design but features sturdy wheels underneath, along with a slide-out telescoping handle. The tough retractable handle glides in and out effortlessly, while the wheels turn smoothly without catching. It's durable and weather-resistant, according to fans, in addition to being stylish and sophisticated. In addition to the main compartment, it has handy zippered pockets to keep things organized.
Proof from fans: "This is not your typical flight carryon bag. It is a DUFFEL BAG with handle and wheels. There is a distinction, and it might matter to you. … If you love the duffel bag layout, then this is for you. Everything seems well made and well designed. The pockets and zippers seem well-made. The handles are plentiful and sturdy. And I LOVE the way it just plops over to the back to sit it down, with a nice rubberized plastic back to set down on the ground, while it also holds the bag a couple inches OFF THE FLOOR. It really is well designed."
A Giant Nylon Tote That Makes A Great Budget Option
Dimensions: 33 by 17 by 11.5 inches
The lowdown: For folks who need extra space and aren't as concerned with carry-on limits, this Samsonite ranks among the best large duffel bags for travel. It's also extremely affordable, so if your goal is simply to have a big, cheap bag that won't wear out quickly, this is an excellent option. It is much thinner than some of the other options, yet it remains remarkably durable and comfy, according to customers (it has a whopping 2,100-plus reviews). The bag is constructed with strong, 400-denier nylon and features a non-stiff, collapsible design that allows it to fold down small when not in use. Given its size, you'll need to check this bag if you're flying, though.
Proof from fans: "This was by far one of the smartest purchases I have ever made for travelling. This duffle bag is super strong and allows you to pack a TON of stuff! I transported a ton of decorative pillows/blankets and other items for a house we own overseas (over 50 pounds worth of stuff), and wanted something I could just fold up once I had unloaded everything on the other end, and this was not only super strong and solid, but also very easy to fold up into my carry on on the way back. Highly recommended."
This Rugged Outdoor Duffel Made From Military Fabric
Dimensions: 20 by 11 by 10 inches
The lowdown: Built to be incredibly tough and durable, this extra strong duffel bag is made with 600-denier nylon Kodra fabric (the same type used in some military bags) and 1,000-denier reinforcements. It's designed with outdoorsy folks in mind, as well as everyday travelers who simply want a tough bag they can throw around without scuffing up. In addition to strength, it offers convenient features such as easy-zip closures and inside pockets for organization. The straps are comfortable to carry and the bag itself is fairly flexible, too.
Proof from fans: "Ordered this for traveling from US to Asia. It is big and strong. Just what I needed. Went back and bought 2more for other family members."
A Waterproof Drybag Duffel That's Fully Submersible
Dimensions: 16 by 9 by 8 inches
The lowdown: This Watershed Ocoee bag is a fully waterproof, 100% submersible dry bag-style duffel that's perfect for trips where you're boating, kayaking, surfing, jet-skiing, scuba diving, or participating in other water-related activities. They're also great for motorcycle trips, according to fans, where your luggage is subjected to inclement weather. I have a similar Watershed bag myself, and it does a phenomenal job of keeping water out. As a bonus, this one floats, too. It's constructed out of 840-denier fabric with a heavy polyurethane matte that makes it stiffer than the other options on this list, however, that's to be expected with a fully waterproof item. Just note that the Z-shape opening system takes a little practice.
Proof from fans: "If you NEED to depend on a bag to keep things dry no matter what, these Watershed bags are the bomb. Water will NOT get in. A regular folded top dry bag will buy you some time, but they aren't 100% waterproof. You close these, and they can be full of air and you give them a squeeze and no air will come out. They will float and keep your gear dry indefinitely. This particular size bag is perfect to sit between my legs, or under my knees, in my Clipper Sea 1 decked expedition canoe.
This Expandable Duffel That's Ideal For Photography Lovers
Dimensions: 22 (24 when expanded) by 14 by 10 inches
The lowdown: What's great about this sleek travel duffel bag is how versatile it is. It works beautifully as a regular carry-on duffel bag; however, if you're into photography, you can purchase a special camera cube that slides inside to store all your gear. The sturdy nylon canvas, which is fairly water-resistant, has a fully waterproof bottom liner and weather-proof zippers that don't leak. The soft handles and shoulder straps are padded for comfort and it has six pockets to organize your belongings.
Proof from fans: "The bag was great for a 1-week trip to Dublin and Amsterdam. Lightweight and with easy to access pockets, this combined with a backpack for my laptop and tablet, was perfect to lug around on the plane, ride share and trains. It has a great profile and when combined with packing cubes, can actually hold a lot without looking like it is stuffed to the gills. Comfort wise, it is lightweight, so easy to carry using either the hand or shoulder straps."
A $15 Bag That's Super Packable And Designed To Slide Over Your Roller Luggage
Dimensions: 18 by 12 by 6 inches
The lowdown: Another great budget item, this lightweight carry-on duffel is custom built to conveniently slide over the handle of your roller luggage. Plus, it's affordable and reviewers say they love it. It's built with fairly strong, water-resistant oxford material and features a compact design you can be packed up into its own self-contained pouch when not in use. If you're looking for something with more structure, it might feel a little bit flimsy, but that's the idea — it's meant to be soft and flexible so you can fit a lot inside.
Proof from fans: "This carry on did well on a recent two week trip to three countries. I put two pieces of cardboard in the bottom to give it a bit of structure. The added of bonus of it slipping over the handle of my carry on suitcase made it a breeze to use. I had mine jammed packed and was always able to get it zipped. … Overall a nice bag for the money."
Available sizes: One size