3 Headphones That Cost 50% Less Than Airpods And Are Just As Good
Become part of the wireless earbud trend without over-spending.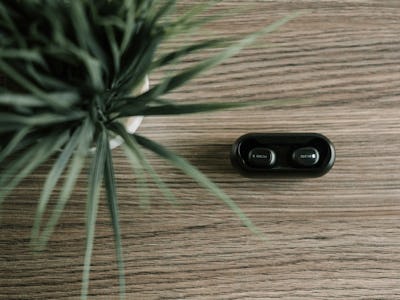 Unsplash / Zarak Khan
You cannot walk out of your house anymore without seeing AirPods in every other person's ears. That's how Apple advertising works. Everyone signs on pretty much immediately and then you can't go anywhere without seeing their product. The first couple of times you probably think to yourself that's dumb, I don't need that but after all your friends become AirPods faithfuls and you've spent half a year seeing them become the default headphones, you might start to sing a different tune.
You might think to yourself, I kind of want that now. And then you'll look at the price tag and if you're like me, you'll recoil. Instead of trying to overcome that feeling and buy into the hype of what everyone else is doing, I encourage you to check out the below AirPods alternatives for less than half the cost. They're all available on Amazon—shipped right to your door—and once you have them, you'll never even know the difference.
Why We Picked It: For $100 less than AirPods, these Cshidworld Wireless Earbuds offer high definition sound for music, podcasts and phone calls. They pair easily in one-step—you press one button to activate and then select them from the Bluetooth list on your device—and from then on your earbuds will pair automatically any time they're taken out of the included charging case. The built-in 55mAh battery will provide up to 7 hours of continuous playtime and when fully charged, the case can recharge them up to 5 times over for up to 35 hours of playtime. Both earbuds have built in headphones for crystal clear audio on important phone calls and voice control with ease. Did I mention they're also IPX 7 water resistant so rain and sweat are no match for these guys.
What Reviewers Say: "I have been using these earbuds everyday for a while now and have really enjoyed them. They are very comfortable to wear for hours, very clear audio from both music and phone calls. Very easy to pair and use right out of the box. All the controls can be done right from the earbud. Love the fact that the storage case doubles up as charging power supply allowing for hours of usage."
Why We Picked It: With many of the same great features as our last option, these SoundPEATS True Wireless Bluetooth Earbuds are exactly what the same sounds like. They're true wireless headphones—this means they're not corded in any way each earbud is independent of the other and in the case of these headphones, they can be used as a single headphone or as a couple, depending on your preference or the task at hand. They pair in one step and will pair with your chosen device automatically every time they're taken out of the case. The included charging case will give you up to 15 hours of playtime without needing to find an outlet and a 12 month hassle-free warranty is guaranteed with every purchase. They're also Amazon's choice for AirPods alternatives.
What Reviewers Say: "Sound quality is extremely impressive for ~$30 headphones, bass levels are fantastic as long as you ensure a tight seal in your ear canal, and boy are they comfortable and convenient. I truly believe you won't find any true wireless headphones better than this under $100. I use these at the office and at the gym. They never fall out of my ears, they fit in my pockets and feel like nothing is there."
Why We Picked It: Like any Bluetooth headphones worth trying, the MEBUYS True Wireless Earbuds pair in one easy step and will pair automatically every time after. They come complete with crystal clear Bluetooth 5.0 and Qualcomm aptX Audio that'll allow for unmatched sound with a strong bass. CVC 8.0 Noise Cancelling earbuds and microphones will enable you to travel comfortably without unwanted distraction and take important phone calls without the extra background noise. But where these headphones really shine is with Intuitive Touch Control, what this means is that with a simple tap to your earbud you can easily control volume, Play and Pause, Answer and End calls and use voice control without needing to touch your phone at all.
Why We Picked It: "Ok, I know, there's lots of choices out there. Forget about Apple AirPods, these headphones are the real deal. Guys, they turn on instantly and sync automatically as soon as you take them out of the charging case. They fit perfectly in your ear with all the tips they provide (no more lost earbuds!). They have multi-touch/tap control to increase volume, decrease volume, skip songs, answer calls, and even works with Siri!! What else do you need?! Buy these right now."