The 5 Best Slip-Resistant Shoes
Safe and effective footwear you'll love.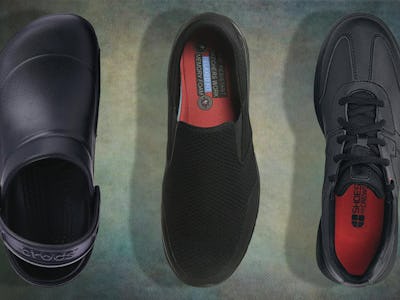 Inverse/Amazon
It's always great to have slip-resistant shoes, but if you work in an environment where you're contending with wet and oily surfaces, it's even more crucial. That includes places like busy kitchens, fast-paced hospitals, and oily construction sites. For these types of vocations, it's imperative that you have the best slip-resistant shoes to do your job safely and effectively.
There are two key factors that make shoes slip-resistant: high-quality tread and strong, grippy material on the soles. Tread is important because it helps the bottoms of the shoes get traction and creates friction between your feet and the ground. According to Shoe Adviser, it also allows the water to "move away from the base or sole of your shoe, making it less likely for you to slip than if you were wearing a flat soled shoe." As far as materials go, look for something grippy, soft, and durable, like high-grade rubber or polyurethane. The brand Crocs also makes ones with a closed-cell resin that's pretty good. Generally speaking, the softer the outsole material, the better it is at providing grip, though it'll still need to be tough and sturdy.
On top of tread and grip, you want shoes that are comfortable, too. This doesn't make them any more slip-resistant, but it does make your day more pleasant. The best way to determine this is to read the reviews and look for well-cushioned footbeds such as OrthoLite, EVA foam, or other soft materials (I did this part for you).
Now that you have a better idea of what you're looking for, check out the best slip-resistant shoes below.
The lowdown: With cushioned memory foam footbeds and soft, shock-absorbing midsoles, these men's work shoes aren't only amazing at preventing slips — they're incredibly comfortable, too. The soles feature special nonslip nitrile rubber that's specifically designed for wet or oily surfaces, and they have good tread that fans say is extra grippy. On top of that, they're extremely durable and capable of withstanding wear and tear, according to reviewers. (One customer even noted that they tolerated hot oil being dropped on them). As a bonus, they're wide enough to accommodate orthotics — just keep in mind that they run large because of this, so if you're not planning to use an insole, order a size down.
Proof from fans: "I work as a grill operator/cook at Waffle House and I'm on my feet constantly moving on cement floors, I recommend to anyone who works in a kitchen or on the floor of a restaurant because the soles are truly slip resistant."
Available sizes: 7 to 16 (regular and select X-Wide sizes)
The lowdown: If you prefer a clog-style shoe, these Crocs Bistro Clogs offer a fantastic combination of comfort, durability, and slip-resistance. They're designed with food service and hospitality workers in mind, though they also work great for nurses, doctors, auto-mechanics, and anyone else who needs shoes that won't slip. They're constructed with sturdy traction and special closed-cell resin that grips exceptionally well and doesn't leave marks on the floor. The popular clogs have more than 2,700 reviews, many of which mention how lightweight and comfy they are. Another pro is that they're good for jobs where you're standing on your feet for long periods of time, not just walking around. Like the first selection, they run slightly large, so you may want to order a size down.
Proof from fans: "After having not worked a job on my feet for about a decade, I wore my normal shoes to work and within two days my big toes and little toes on both feet had exploded into blisters. Not only that, but being a janitor, i was getting mop water, toilet water, bottom-of-the-garbage-can water and god knows what else on my existing shoes, and they were starting to [reek]. So I got these last week. Both problems solved. The soles are also extremely grippy. You don't have to worry about wet floors in these."
Available sizes: 4 to 14
The lowdown: These sneaker-style work shoes are lightweight and breathable with incredibly slip-proof soles, according to reviewers. In addition to having soles made from tough, slip-proof rubber, they showcase a special trip guard to prevent you from stumbling if you're coming around corners in a hurry, especially on wet surfaces. They even come with a special tool to keep the treads clean, ensuring you have traction and grip. Customers report that they are nonchafing right out of the box with virtually no break-in period. The only drawback is that some reviewers said they were getting sore feet after extra long shifts, although they said purchasing inserts solved the problem. Just note that the tread gets packed quickly so if you work in a messy place, you might need to clean off the soles each day after your shift.
Proof from fans: "Fit = Perfect Look = Right on Non-slip = Perfect I work at a fast food restaurant as a part time job, and they work extremely well. They are light but effective."
Available sizes: 7 to 17 (regular and select wide sizes)
The lowdown: Built especially for industrial settings, these steel-toe work shoes are tough, durable, and extremely slip-proof. They're built with sturdy steel toe-caps to protect your feet. The soles are made with heavy-duty thermoplastic polyurethane (TPU) that's designed to provide durability and grip. The tread is grippy and they're also anti-static. What's more, the insides feature Coolmax mesh lining that wicks moisture so your feet don't get damp and sweaty (and the antimicrobial Microban coating reduces odor, too). On top of all of that, they have heel guard protection. Just note that these are only available in extra-wide sizing.
Proof from fans: "Great traction in oil and grease, flexible sole and no cracking as of yet. The rubber toe is also a nice feature as I kneel down quite a bit in my line of work and this should keep them from wearing down to the composite toe prematurely. These are very comfy after about a week of break in."
Available sizes: 6 to 15 X-Wide
The lowdown: These men's slip-on shoes are similar to the best overall pick except they have a layer of mesh on the top to help them breathe. This makes them great if you're someone who's prone to sweaty feet, or if you work in a hot environment where you're perspiring a lot. The anti-slip soles are made with strong rubber designed to prevent your feet from sliding around, even on extra wet or oily surfaces. They have ample tread, along with memory foam insoles that mold to your feet, providing cushioning and support.
Proof from fans: "They keep my feet dry (inside) from potential foot sweat - which my feet do not sweat in these as they did with my Shoes4Crews but also from wet dish room/kitchen floors and mop buckets and spilt kids cups, etc. They dry quick when wetted from the exterior. These shoes also do not seem to retain noticeable odor, whether from my feet or the exterior elements. I would recommend these shoes, double over, to any server!"
Available sizes: 7 to 15 (regular with select wide sizes)