6 Office Chairs that Will Save Your Posture And Help With Back Pain
Ease your back pain and improve your posture with an ergonomic office chair.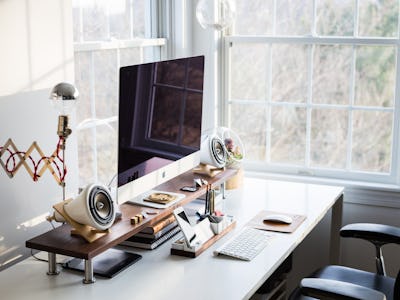 Unsplash / Jeff Sheldon
Think about it: How much of your day do you spend sitting down? You're probably sitting in an office chair right now. If you have a desk job, your office chair is your home base. If you're a PC gamer, your office chair is your relaxation station. If you're an online shopper, casual internet browser or any number of activities involving a work station, you know that it's in your best interest to have a supportive, ergonomic chair that doesn't cause you pain.
But what does that mean? First and foremost, lumbar support is a must-have. Most ergonomic chairs will take this as a priority, but if it's not advertised as ergonomic, you're looking for a chair that follows the curve of the spine. The right office chair should be adjustable in both height and the backrest. An office chair that is the correct height should allow you to sit comfortably with flat feet able to touch the ground. The back of the chair should be no shorter than the middle of your shoulder blades, but the most supportive chairs tend to sit above the shoulders. The arm rests should be the same height as your work surface and close enough to the body that your shoulders are able to comfortably relax without unnecessary tension. Your chair's seat should be sufficiently wide and long enough that your knee is no less than 2 or 3 finger lengths away from the seat. All of these things combined will support a much better sitting posture that will reduce any possibility for pain or injury from prolonged sitting.
Now that you know what qualifies a good office chair, below are the 6 best ergonomic office chairs available on Amazon.
Why We Picked It: While this is easily the most expensive option featured on this list, it would be remiss not to include it. After decades of being the most beloved office chair in America, the Herman Miller Aeron Chair has a new look. Featuring 8 latitudinal zones in the seat with varying degrees of suspension, you'll sink a little into the chair like you would a good mattress. The new 8z Pellicle mesh will provide unwavering comfort even on the longest work days or gaming sessions. The Aeron features a natural tilt that allows it to move comfortably with your body, including a range of recline and forward sitting with additional back support if you're working on something closely. Not only that but the chair comes in 3 sizes—A, B and C—to best accommodate the size of the person sitting in it without sacrificing comfort. On top of the sizing options, the chair is available in Carbon, Graphite and Mineral to match whatever preference you have.
Why We Picked It: If you're pressed for space and/or aren't necessarily the type to work in your chair all day every day, the HON ValueTask Low Back Task Chair is the ideal option for you. It's armless, budget friendly, allows for ergonomic adjustments for supportive range of motion—including reclining with the adjustable center tilt—and the wheels and swivel seat allow you to move with ease to other parts of your office.
Why We Picked It: Fully constructed with ultra-durable, breathable mesh fabric, the ergonomic back is both temperature regulating and perfectly aligned with the natural shape of the human spine. The tightly woven mesh reinforced with strong plastic provides unmatched support that is flexible without unwanted sinkage. The adjustable height, headrest and back rest features a pneumatic lift system that allows you to raise and lower the chair to the perfect height for your posture. Compared to aforementioned models, this chair can support up to 350 pounds of body weight and comfortably support someone up to 5'11'' without compromising performance. The 360-degree swivel will allow you to access anything you need at any time without a fuss and the 5 year warranty allows you to make this purchase with confidence—knowing that you're covered.
Why We Picked It: Leather is both timeless and comfortable in a way that not all fabric can be. Available in 7 different leather finishes, this heavy duty office chair has the same ergonomic mesh back that breathes and provides optimal comfort on even the longest days. The flip up arms allow for easy adjustment and ease of getting in and out of the chair—especially in cramped cubicles, small offices and corner desks. This office chair features thoughtful add-ons like a comfortable molded seat for extra support and chrome finishes around the 5-prong caster base.
Why We Picked It: Unlike the other budget friendly option on this list, this chair features a higher back and headrest as well as adjustable arms. The headrest is sliceable and slightly curved for optimal support of your head and neck for the best posture during a work day or gaming session. Like any office chair worth its weight in salt, this chair features a much needed mesh back that allows body heat to escape and a padded butt cushion for added comfort. Not only that but this chair shines in the lumbar support category and is expertly curved to alleviate and prevent lower back pain and muscle fatigue.
Why We Picked It: Hunching is among the worst posture habits possible. It's easy to do without even noticing you're doing it. This ergonomic kneeling chair features 3-inch thick cushions and 4 casters for the same moving convenience as a traditional office chair. The seat cushion is tilted at what is described as a "comfortable angle" that promotes better posture so you're never hunching while you work. The height is adjustable between 21 and 28 inches for ease of work at a variety of work surfaces and the heavy duty metal base will ensure that this is a purchase that lasts.