These Are The Best Men's Slippers for Lounging Around The House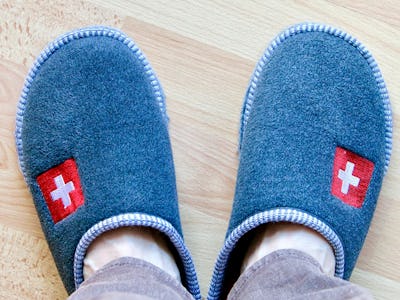 Pixabay
Who wants to wear shoes around the house? Certainly not us. That's where comfy, cozy slippers come in. And yes, they make plenty of awesome slippers for men. Get ready for the winter months with some of the best slippers around, whether you're looking for soft comfort or slippers that can go with you from inside the house to outside and out and about, like getting the mail or running the dog to let your pal do their business. You can't go wrong with the picks we've got lined up here.
These eye-catching slippers come in two different colors, making them a fun addition to your loungewear. They're 95% cotton and 5% spandex for a stretchy fit, and feature a waffle knit upper to let your foot breathe. That way, you won't sweat while wearing the shoe. Inside, memory foam contours to your foot so you can strut around home in sheer comfort. The sturdy rubber sole is great for leaving the house for quick errands outside, then you can bring them right inside for easy cleaning. They look just as good as they feel.
People wear Uggs all the time for a reason—they're super comfortable! These slippers combine the comfort of the classic UGG boot with a moccasin style for effortless comfort and coziness. They're 100% leather and feature lamb wool, with a rubber sole. They also feature a water-resistant suede upper and UGGpure wool lining and insole to keep your feet warm and dry. Plus, they come in several awesome colors.
These Izod slippers offer classic comfort and style. They're great for casual indoor and quick outdoor wear with memory foam cushioning in the footbed. They're soft and breathable, as well as easy to slip on as soon as you get out of bed for the day Plus, they've got a rubber bottom to help make sure you don't slip on any surfaces, such as a tile floor while making breakfast first thing in the morning.
These slippers are great for the dead of winter, where your feet are screaming for warmth and comfort. Their woven fabric makes for a reliable barrier against the cold, and they can be air dried if they get wet. They also feature a rubber sole to ensure you can get all the business you need to finish up done, whether inside or outside.