4 Smart Scales In Every Price Range (And Why You Want One)
These scales outweigh the competition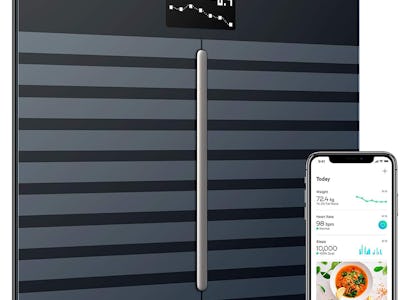 Amazon
Virtually every device today is "smart" in some way, whether they need to be or not. Some smart devices just add more complication to your life when their sole purpose is to make it easier. At first, the idea of a smart scale may seem like it may be one of those needless items that became smart for no good reason, but you'd be wrong. Dead wrong.
Before we get to it, what does a smart scale do? Can you control it with your phone? Can you tell Alexa to weigh you? No. For the most part, smart scales track your weight and other measurable things and can display them within a companion app. If anything, the smart scale makes you more cognizant of your weight and can motivate you to move towards a healthier lifestyle. In theory at least.
The problem with smart scales, at least when they were new, is that they were pretty pricey. Now, they've come down considerably in price, but it's not uncommon to see one reach $150. Below, we're going to show you 4 different smart scales in every price range that are well worth your time.
A capable smart scale doesn't have to cost you a ton of money, and you'll see that with the Renpho Smart Scale. For under $25, you can get a ton of features that had previously been reserved on much more expensive scales of its kind.
The RENPHO Smart Scale is capable of tracking 13 body composition measurements, like Body Weight, BMI, Body Fat%, Water %, Skeletal Muscle, Fat-free Body Weight, Muscle Mass, Bone Mass, Protein, Basal Metabolism, Subcutaneous Fat, Visceral Fat and Body Age. While you may not be completely interested in all the things the Renpho scale can measure, it's better to have too many than not enough.
It doesn't stop there, though. This scale syncs with popular health apps, such as Samsung Health, Apple Health, Google Fit, and Fitbit, so you won't have to manually enter your weight in ever again.
Another popular smart scale comes from eufy, earning points for both its price and capabilities. The eufy Smart Scale P1 is under $50, and feels like it's worth a lot more than that.
Track 14 body composition measurements with the P1, including Weight, Body Fat, BMI, Bone Mass, Muscle Mass, and more. You can also stay synced up with your favorite fitness apps, such as Apple Health, Google Fit, and Fitbit.
If you have a house full of people, the eufy Smart Scale P1 is up to the task, and is capable of tracking 16 different users and can recognize them automatically based on their weight.
Withings is a name you should familiarize yourself with if you haven't already, as it's been in the smart scale game for quite a while now. It was once owned by Nokia, but has since re-established its Withings name. Luckily, the name switch didn't sacrifice the quality of its products and the Withings Body+ Smart Scale is likely one of the best options available.
Capable of keeping tabs on a bucket full of measurements like the others on this list, this scale is highly accurate, measuring body weight within 100 grams. That's not the only thing that makes this scale great: The Health Mate App is a well designed health portal for your to view all of your measurements, and it's compatible with over 100 other health apps like MyFitnessPal, Weight Watchers, MapMyRun, Runtastic, and many more.
If you were to take the features of the Withings Body+ above, give it a rechargeable batter instead of battery power, and allow for heart rate monitoring, you'd then have the Withings Body Cardio Smart Scale
While a near $50 price hike for a modest spec bump may feel unjustified, the Body Cardio is a scale for someone who wants all of the features one could have. Alexa compatibility, pregnancy tracking, multi-users, you name it, the Body Cardio has it. Not to mention it's slick and simple design is easy on the eyes.