'Red Dead Redemption 2' PC trailer may make you want to ditch your console
We reckon this game looks mighty fine in 4K resolution, y'hear?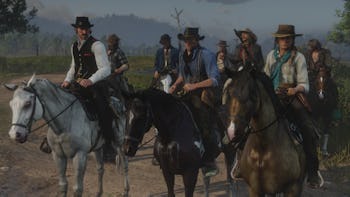 Rockstar Games
There's no denying it: Red Dead Redemption 2 is one hell of a gorgeous game. Come the first week of November, Arthur Morgan and the Van der Linde gang will look even prettier than you remembered them. RDR2 comes to PC November 5, bringing with it a whole heap of technical innovations that'll make it look even spiffier than previous releases on PS4 Pro or Xbox One S. No joke — it looks so damn good, you're gonna be keeping an eye out for Black Friday deals on gaming rigs, even if you already have a copy of the game. Even if the missus won't let you buy a big honkin' Alienware, or you're a Mac devotee for life… you're gonna be tempted.
According to a press release from Rockstar, the PC version of Red Dead 2 boasts "increased draw distances, improved shadows and lighting, new grass and fur textures, and much more – complemented by a host of exciting new content additions for the game's Story Mode." But the proof is in the pudding. Check it out for yourself below:
It takes some truly remarkable visuals to make us gawp and ogle at tree trunks and rocks, but this latest and greatest version of RDR2 truly stuns. The sight of the sparkling embers of a campfire against the night sky, being able to spot the individual hairs on a bear's lumpy derriere as it slowly ambles by, seeing to the bottom of a river from a bridge above — it's impossible to watch this trailer and not want to clamber astride a horse and feel the breeze in your hair… and maybe rob a few people too. Just a few!
If you pre-purchase the game via the Rockstar Launcher by October 22, you'll receive two free classic Rockstar PC titles (the press release doesn't say which ones they are, sorry). You'll also snag some bonuses for story mode and 50 Gold Bars to use in Red Dead Online.
Red Dead Redemption 2 releases for PC on November 5.