The Best Riding Lawn Mowers
Take the work out of mowing the lawn with these riding lawn mowers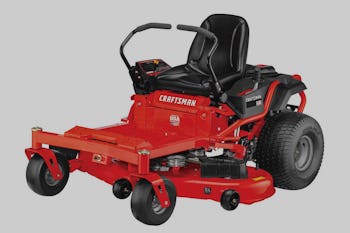 Amazon
Amazon sells just about everything you can think of, including some things you actually wouldn't think of purchasing from the online retail giant, like riding lawn mowers. It's true that this is a big purchase that many would rather see in person due to their price points, but it is Amazon, so it's always a good idea to check to see if it has a better price than a brick and mortar store.
There are a lot of factors when it comes to considering a riding lawn mower, but it's easy to get distracted with bells and whistles that they ship with. While extra features can be important for this type of investment, you'll want to make sure that the mower actually suits your needs first and foremost.
If you find yourself in the search for a riding lawn mower and you want to know some of the best riding lawn mower options available to you, be sure to check out our short list below!
This riding lawn mower offers up both front and rear suspension, so you'll feel up to 25% less impact compared to an unsuspended mower. So, if comfort is a priority, the Simplicity 2691324 Courier Zero Turn Mower should definitely be on your consideration list.
In addition to the comfort offered up by this mower, it's also a very versatile one as well. With 21.5HP, a 48-inch cutting width, rear cargo bed, and 13 height settings that range from 1.5 to 4.5 inches, allowing for a flexible grass length.
The Snapper 2691320 360z Mower will allow you to get most of the features as some of the best options out there for under $3400. If you're not in love with the price of the price of the Simplicity model above or don't care about features like the front and rear suspension it has, this is one that's very much worth your time.
The 21.5 horsepower, 48-inch width mower also comes with a rear cargo bed for hauling extra weight around and even includes cutouts to add a 2x4 for a removable tailgate. Why this wasn't included in the package is beyond us, but you at least have the option to do so if you wish.
Like the Simplicity above it, this Snapper also comes with 13 adjustable height of cut positions, ranging from 1.5 to 4.5 inches.
If you're looking for a little more power under the hood of your riding lawn mower, the Craftsman Z560 is your next place to look. Rocking a 25 horsepower gas engine by Briggs and Stratton, this mower is ready to take on the meanest of yards. The powerful engine also ships with ReadyStart, which provides a fast startup time.
The 54-inch cutting width on the Z560 ensures your passes cover a wide surface area without worry. Missed a spot? You can flip this mower in reverse to quickly cut what you missed and get back to work. The mower itself also comes with a deck wash, which will make clearing it's underside and easier task.