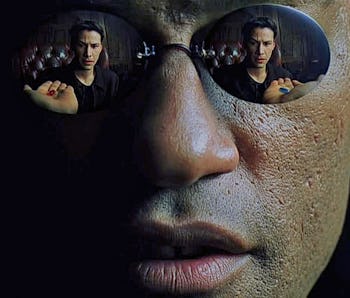 Entertainment
The latest 'Matrix 4' casting news may reveal when the sequel takes place
The answers are right in front of you, Neo.
'The Matrix'
With every new piece of casting news, Matrix 4 feels a little bit more real. However, with that comes an increasing uncertainty as to what this reboot (sequel?) will actually be about. The film's original announcement signaled the return of franchise leads Keanu Reeves and Carrie Ann Moss as Neo and Trinity, two characters who died at the conclusion of the original trilogy. Further announcements of newcomers Yahya Abdul-Mateen II as the movie's lead and Neil Patrick Harris in a mysterious new role, and franchise veteran Jada Pinkett Smith (Niobe) only steepen the confusion.
At this point, it's hard to gauge just what this movie will be about — and that's likely by design. It's way too early in production for us to have any concrete idea as to where this new film might be going. Keep in mind that the production and advertising of the original The Matrix was cloaked in secrecy. Many folks didn't even have an idea as to what kind of movie they'd bought a ticket for when they saw the film in theaters. As such, it makes plenty of sense that this new film would have an air of mystery about it. However, there's a bit to work with based on the current casting news, namely with regard to Abdul-Mateen II's involvement.
First, it's crucial to note that Morpheus actor Laurene Fishburne has not been announced as returning to the film. It's hard to not notice that notable absence and how it may relate to a rumor circulating earlier this year, that being that a Matrix prequel starring Michael B. Jordan — allegedly as a young Morpheus — was being discussed.
That turned out to be a false lead (at least for now) but it feels reasonable to suggest that perhaps some of those ideas were carried over from, namely the idea of a film featuring a younger version of Morpheus. That version of the film was allegedly to be written by Zak Penn and not involve the Wachowskis in any capacity. While there's no telling how close it came to happening (or if it was really being discussed) it's hard to not notice the potential similarities between the rumored Michael B. Jordan vehicle and this new Matrix film.
This may not indicate that the film is an out-and-out prequel, mind you. It's established in the franchise that Neo specifically has been reborn through the Matrix countless times. Perhaps Abdul-Mateen II's character will end up being not a younger Morpheus but a new Morpheus. The return of Reeves, Moss, and Smith to the film open up the potential for his character being accompanied by the digital incarnations of the characters we already know. Yes, the real-life bodies of Neo and Trinity may be dead, but there's a fair chance that their digital essences remain in the Matrix.
It's hard to say how much weight this idea holds. Smart odds say that we still have no idea where Matrix 4 is going. All we can do is look to the stars (the Hollywood stars being cast in the film, that is) and try to read what they're making an effort to tell us.
Matrix 4ever, or whatever it's actually called, begins production in 2020.