'Animaniacs' changed TV in the '90s. Can the 2020 reboot transform streaming?
The time is right for a revival, but can the creators live up to the opportunity?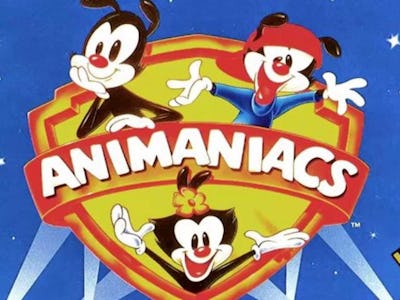 Warner Bros
Ideally, Animaniacs would have never ended. The cartoon ran from 1993 to 1998, expertly skewering the world of Hollywood and television. The adventures of the Warner siblings (Yakko, Wakko, and Dot) were ostensibly made for children, but the series ended up being one of the first great animated shows adults could enjoy too. Animaniacs nimbly blended all-ages humor with sharp satire intended for more mature viewers.
In 2020, the series is coming back (with the original voice cast) thanks to Hulu — and it's the perfect time for it to do so.
When cartoonist Gary Larson put his acclaimed comic The Far Side on hold decades ago, he did so at the peak of his powers, saying that he didn't want the humor to get stale. Because Animaniacs ended in '98, the show never had a chance to wear out its welcome, and after 20 long years, it will find an audience better equipped to appreciate its knack for parody —along with loads of new fodder for satire.
The landscape of Hollywood and television have shifted drastically in the last two decades. Networks have consolidated. Streaming has become the primary platform for people to watch television. Shows get cancelled only to be picked up by another network or streaming service. The laugh-track sitcom is dead, Game of Thrones redefined prestige television, and the Marvel Cinematic Universe forever altered the way we think about blockbuster cinema.
All of this is a veritable goldmine for the creators of Animaniacs. Yakko, Wakko, and Dot will have such a deep well to draw from that it's hard to imagine the show will run out of material any time soon.
Animaniacs was ahead of its time back in the 90s. Now, catering to both old and young fans is practically a necessity for animated TV shows. Whether you're talking about Steven Universe or She-Ra, animation is very much an all-ages game. That's not even taking into account the extent to which Adult Swim has made "animation for adults" a genre in itself. Shows like Rick & Morty and Bojack Horseman have made the medium a viable place for mature, adult storytelling. While Animaniacs might not find itself in that category, it still feels like a more welcoming ecosystem.
One potential challenge for the team behind Animaniacs will be finding a way to stay ahead of the curve. It will no longer stand out for its maturity and will have to adapt to the new landscape of television. The time is right for an Animaniacs revival. What remains to be seen is what they do with the opportunity.
The Animaniacs will return in 2020.