Best Gifts For True Video Game Lovers
Here are some things you gamer might not know they need.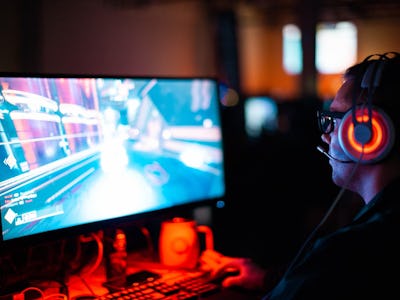 unsplash 
Gaming is serious business, and if you're serious about gaming, you know it's a lifestyle. In the end, it's multiple hours out of every day dedicated to the pursuit of happiness. So what can you get for that gamer in your life? Here's a roundup of the best gifts for the true video game lover in your life.
The truth is, anyone who stares at a computer screen for hours on end is at risk for eye strain and wonky sleep cycles. Blue light just tends to have that effect. So Swanwick's blue light blocking glasses are an ideal gift for the gamer in your Iife. Essentially, the user wears the blue light blocking glasses for two hours prior to bedtime and the spectrum control technology does the rest, effectively blocking out 98% of blue light. It's like giving the gift of restful sleep.
We weren't kidding when we said gaming is serious business. So serious, in fact, that it could lead to physical injury—unless the diehard gamer takes some precautions that is. Manipulating a mouse and working with a keyboard for hours on end can cause muscle and tendon fatigue, carpal tunnel syndrome and eventually arthritis. But gamers could spare themselves a lot of pain with the right kind of support. The Bridawn copper infused compression gloves provide substantial support keeping gamers comfortable through any marathon gaming session.
Sitting at a desk, for hours at a time, can cause neck and back fatigue. And who knows how long it'll take before a landing on Fortnite? A marathon gaming session can cause painful neck, back, and shoulder knots. And the only way to find relief is to knead them out. The Resteck massager comes with a perfect five-star rating on Amazon, so it certainly looks like it'll get the job done. The Resteck massager has a deep tissue 3D kneading pillow, eight massage nodes and a heating function providing the ultimate in relief.
A long night of gaming may require a little help from your friends, and the friends we're talking about here are cans of serious coffee. Chances are, the gamer in your life has all the latest and greatest when it comes to necessary equipment, but coffee is one thing they may not have thought about. It's also something that must be replenished, probably every Monday if I had to guess. Each can packs a whopping 300mg of caffeine and it's only 15 calories (in case your gamer is watching their waistline). But back to the caffeine, 300 mg can really give your gamer the boost they need to shoot—uh, whatever it is they're shooting.
Sitting down for hours upon hours is detrimental to anyone and gamers are clearly at the top of the list for health problems. Give your gamer the gift of good health with the standing desk converter by Vivo. The Vivo unit sits on their existing desk and the spring lift allows the unit to be lifted up and down. Your gamer can sit when they need to and hopefully stand more often for better health. The Vivo seems like it was made for gamers, the desktop can accommodate two screens and has a separate keyboard tray.