'The Eternals' plot leak hints at a possible 'Game of Thrones' showdown
Could this House Stark reunion be less than friendly?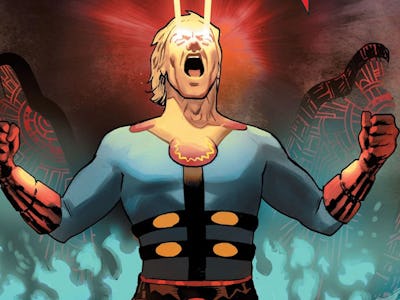 Marvel
With filming now underway, we're finally starting to get a better idea of what Marvel's upcoming film The Eternals will be about. Snippets have leaked here and there depicting a vast cosmic epic unlike anything we've seen in the Marvel Cinematic Universe so far. Recently, a series of leaks on 4Chan outlined the film and its characters in greater detail than previous leaks, giving us a pretty solid picture of where the film may be heading.
Possible spoilers for Eternals ahead.
Though the movie will trace the origin of superpowers over thousands of years and span a number of different time periods, this isn't a historical epic. Much of the film seems to take place in a contemporary setting. According to the leaks, the present-day story will largely focus on Sersi (Gemma Chan) and Dane Whitman, AKA Black Knight (Kit Harington). Whitman is an archaeologist who discovers proof of the existence of the Eternals. Sersi is the Eternals' spy on Earth who falls in love with Whitman. This is a problem, since — you guessed it — it's forbidden for an Eternal to fall in love with a human.
If this leaked character rundown proves to be true, we could be looking at a confrontation between two Game of Thrones' Kings in the North: Robb Stark and Jon Snow. Richard Madden, who played Robb, will star in Eternals as Sersi's brother Ikarus. Because of the rules regarding love between Eternals and humans, he'd likely take issue with Whitman falling in love with Sersi and attempt to intervene in their romance.
This could lead to a showdown of epic proportions between the two Thrones alumni in the cast. Harington played the bastard stepbrother of Madden's Robb, though the two only appeared in the first two episodes together, with Jon having been sent to The Wall and Robb's unfortunately-timed death at a certain Red Wedding (maybe you heard about it?). The Eternals will mark an onscreen reunion between the two, albeit it seems they may be on opposite sides of the battlefield (at least at first).
There's still no telling how much legitimacy there is to these leaks, though they seem to be in line with previous reporting about the film. Whitman discovering the Eternals by stumbling across the Tomb of the Space Gods tracks as we've seen the Tomb set photos pretty recently. It may be best to take it all with a grain of salt but we'll almost certainly getting a Stark reunion in the film. The question remains how cordial a reunion it will be.
**Eternals comes to theaters November 6, 2020.