'Welcome to Leith' Offers a Chilling Look at Modern Day White Supremacy
A new documentary captures neo-Nazi Craig Cobb's attempts to turn a North Dakota town into a racist's utopia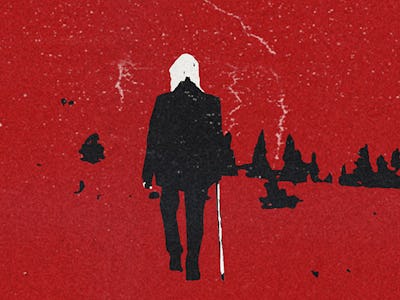 The documentary "Welcome to Leith" opens tomorrow in cities across the country, after a successful stint on the festival circuit, including Sundance. Feeling as much like a found-footage thriller as a traditional, informative doc, the film is a concise, formally fragmented look at events that occurred in 2013, when noted white supremacist Craig Cobb suddenly moved to Leith, North Dakota in an attempt to turn the tiny town (at the time, home to approximately 24 residents) into a haven for card-carrying neo-Nazis. Eventually, the townspeople figure out Cobb's reputation from some online research — Cobb is on the internet for the better part of 24 hours each day posting to white power forum — and with it, his agenda to buy up the town, vote his constituents into leadership positions, and transform it into a utopian White-is-Right base of operations. The movie covers the cold war that subsequently erupts.
Brooklyn-based directors Michael Nichols and Christopher Walker's movie is compelling and chilling, told as it is through handheld footage courtesy of the filmmakers, townspeople, and even iPhone shots from the wife of Cobb's second-in-command, Kynan Dutton. There are no dramatic reenactments; montages of filmed photos and newspaper clippings are integrated only sparingly. It evokes the feeling of a tiny town in which animosity and terror hang thick in the air — the feeling of everyone watching each other at all times. Cobb and his antagonists — everyone else in Leith, plus an amateur photographer/ex-Navy SEAL from a few towns away intent on driving Cobb out — begin to pack arms to defend themselves, though no violence outside of some half-fisticuffs ever occurs. Cobb's direct neighbor is his most vociferous opponent, especially after Cobb makes a joke about his daughter being murdered at a town hall meeting, and eventually begins to stride around town with a long black trenchcoat to hide a gun (or three). The climax comes when Cobb and Dutton begin to patrol town with assault rifles and hurling epithets at their neighbors — here, Leith's claustrophobic geography becomes clear.
Eventually, Cobb's plans for the development of Leith are foiled; though many of his cronies still own land there at the end of the film, no structures are built, and no other leaders move there. The mayor orders Cobb's condemned house to be destroyed. Cobb is released on probation after being arrested (along with Dutton) for threatening various Leith residents. He is prohibited from bearing arms or interacting with any of the people who brought the suit against him. The film ends with him at a bus stop. We are unsure where he will head next.
There is a sense of anti-climax to the film — what we are ultimately supposed to take away is unclear. It feels like there's too little time to understand the characters — Cobb himself, despite the fact that the filmmakers had access to him for one-on-one interviews, and the backstories of the vibrant townspeople, who had reactions from quietly hostile to the apoplectic.
But as one gets some distance from Welcome to Leith, its sharp images and the feeling of its disordered pacing stick. If anything, the film is most important for giving us a more intimate and unmediated look at the contemporary American far right than we are used to seeing in widely syndicated media. Cobb's forum-based fame makes the story all the more sinister — Leith encourages us to wake up to the fact that this way of thinking has real-life consequences outside of shadowy subreddits (those that are beginning to be shut down).
Also, this struggle continues: Since the events in Leith, Cobb has gone on to attempt domination of another North Dakota town, and in June announced that he'd set his sights on another. Especially in a year when racial tensions in America — and their tragic fallout — have been very much at the forefront of our collective conscience, this film is an important one to see.