Stay Juiced Up on the Go With These Awesome iPhone Car Chargers
Keep your iPhone ready to go while on the go.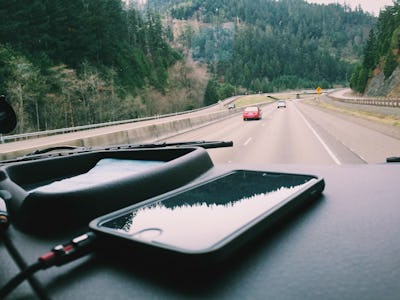 Pexels
Let's face it: even if you've got the latest and greatest iPhone that has great battery life, sometimes you need a little more power—especially when it comes to using it on the go.
Whether you use your phone as a makeshift GPS or you need it to hear your favorite music while heading to work or out on the town, your iPhone may occasionally need to be charged up while you're in the car.
Lucky for you, there are plenty of excellent car-charging options out there for your iPhone. We found five fantastic car chargers for your iPhone that you can be sure will help get you from point A to point B while keeping your smartphone companion fully juiced. There are options for anyone on a budget as well as some looking to splurge. Check out our picks to find something that's right for you.
This car charger is more than just a simple option to get your phone to 100% battery capacity. It's a dual-port, quick-charging option with Qualcomm technology. It features two USB ports so you can charge two phones at once. That makes it absolutely perfect for when you and your significant other, friend, or family member is needing some extra juice and is also in the car with you.
Plus, the PowerBear uses the latest Qualcomm technology to ensure it can offer quick, simple charging without any hassle. What's more, it's rubberized, compact, and low-profile with bright LED indicators to show you when charging is in progress and when you can go ahead and unplug. If you decide to take the plunge with PowerBear, you'll also get a lifetime warranty.  
If you're looking for a quick and easy, affordable solution to charging on the go, this ET Pocket Tangle-Free car charger is a great way to keep things simple. Sometimes, that's all you need, anyway. This slick white charger features a retractable cable to keep your lightning cable from tangling all over your gearshift or somewhere else that might make for an unfortunate situation. Just pull out the cord and hit the middle button to retract it immediately. It's that simple!
It also features a USB cable for different devices that may need charging. If you leave your phone connected too long, don't worry, as it has smart IC chip technology to prevent you from letting your devices sit too long when they don't have to. Plus, while it's in use, the LED will turn a pretty blue. 
Anker is an affordable name in the charger and cable industry. This particular charger is one of its best, and it's completely portable, at that. It's one of the smallest in the market according to Anker itself. This little guy may not feature a retractable cable, but it does come with 2.4 amps of power to supercharge your iPhone, iPad, or iPod as quickly as possible. But it's not so quick as to destroy your devices. Anker MultiProtect's safety system ensures you can't fry your phone just by charing it up.
Featuring an eye-catching red cable as well as a slim charger to plug into your cigarette lighter, this Anker charger should be everything you need to ensure you can top off your device on the go. On top of that, it's durable and attractive. It may not be able to take two devices at once, but it'll get the one you're charging up and through super fast. 
This 5-in-1 smart charger lets you charger to a whopping 5 devices at the same time. If you're a parent who has a big family with kids who all need charging or just a big crew, this should certainly come in handy. It come with two 2.4A USB port and a Type C port that lets you charge 3 devices at once.
Meanwhile, it features two cigarette lighter sockets to plug in other devices like your GPS, dash cam, and more. It also features a simple independent on/off switch to turn it off when not in use. That means you don't have to keep removing it from where it's plugged in, and this will end up preserving the life of your charger as well as the device you have plugged into it. The device even includes a 90-degree swiveling head pivot for adjustments and a shiny plastic body. It's got multitasking magic for just about any situation you might need, making it an awesome choice, no matter how large your brood is.
If all you need is a smaller, low-profile charger that features two ports, this is your best option. It's extremely affordable, comes in a small package, and it's ideal for just about anything you could possibly need to charge with it. It also includes an LED backlight that should help you navigate to the slots when it's pitch-dark in your car.
One cool aspect of the charger is that it's meant to sit flush with your vehicle's charging port. This should keep you from having any sort of clutter on your dashboard, since it's extremely important to be able to keep your eyes on the road. Best of all, it's universally compatible. You can charge far more than just your iPhone or similar devices in it. It's also minimalistic in design, and should be perfect for just about any use you might have for it.