4 Clever Halloween Costumes That Cost Less Than $20
These are awesome and won't break the bank.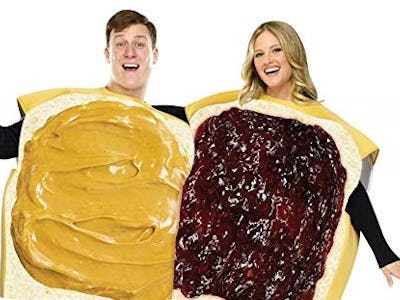 Amazon
Thanks to cosplay, many people think that costumes have to be elaborate and detailed. And while those can be extremely awesome, if you're going to a costume party with friends—and you have multiple Halloween parties this year—you don't have to recreate something a Hollywood costume designer spent weeks on.
While masks look cool, they're honestly pretty uncomfortable and impractical for a party, where you really want to able to talk, nibble on snacks, and sip a drink.
We've found some simple, clever costumes, and all come in at under $20 per person.
Why We Picked It. Bananas are a classic comedy gag, and this costume will never go out of style. You know this costume is going to make people laugh. The banana consists of a one-piece tunic you pull over your head, but it comes with a surprise. The top of the costume is "peelable," and you can pull down the yellow skin to show the white of the banana around your head. The costume is made of polyester, and it's unisex, because everyone should feel free to be a banana.
Why We Picked It. Some people just go together like peanut butter and jelly, and these costumes make it official. Yes, the total price is more than 20 bucks, but it's less than $15 apiece, so you get it. The Peanut Butter and Jelly set comes with two foam tunics, one with the peanut better design and the other with the jelly printed on the front. These roomy costumes keep your hands, legs, and face free so you can enjoy the party.
Why We Picked It. If you divide the price by three, you'll see we're way under the $20 budget we set for a costume. Yup, you and two buds can get a fun costume for about 11 bucks each with this set. And if you're the kind of guys who are forever turning to Rock, Paper, Scissors to settle who's first, so much the better. The simple polyester costumes pull over your head, with shoulder straps to keep the rock and paper costumes in place. The scissors just fits over your head. The design is timeless, too.
Why We Picked It. Sometimes it just takes a few accessories to create a costume. If you're a Mario fan, this Super Mario Bros. kit lets you look the part without a lot of fuss. There's the recognizable hat, the trademark moustache (it's self-adhesive), and big foam white gloves. All you need is a pair of denim overalls, and you're set.