The Rock might appear in 'Fast and Furious 9' after all
It appears the beef has finally been settled.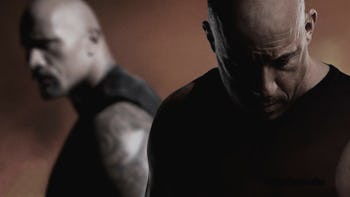 Universal Pictures
Sometimes the impossible becomes possible. Over the weekend, we experienced one of those moments. Way back in 2016 during the filming of The Fate of the Furious it was reported that a series of heated disputes had broken out on-set between franchise star Vin Diesel and his co-star/America's Role Model Dwayne "The Rock" Johnson. While their beef was allegedly squashed, it seemed more that it was turned down from a boil to a simmer. Battle lines were drawn amongst co-stars and when the film finally dropped it was quite noticeable Diesel and Johnson never actually appeared on screen together.
Shortly after, Johnson and co-star Jason Statham filmed this year's spin-off Hobbs & Shaw while the franchise's ninth proper installment quietly went into production without Johnson — the first instance of him not appearing in a F&F film since he joined the franchise in 2011. The movie's filming as we speak, and Johnson's name is not attached to it. With a Hobbs & Shaw sequel all but certain to keep Johnson busy in the coming years and only two more F&F films confirmed, it seemed Johnson's days as a member of the Family may have come to an end.
That all changed this weekend. In an Instagram video discussing the success of Hobbs & Shaw, Johnson recognized "Brother Vin," calling him crucial to the franchise's success over the last decade and offered Diesel his utmost gratitude. It would appear that after all this time, the beef may be done for good (or at least set aside out of professional obligation).
Johnson closed his comments with a direct reference to his future in the franchise, invoking the closing interaction between the characters in Fast Five: "And of course, all roads lead to one thing… I'll be seeing you soon, Toretto."
With Fast & Furious 9 still in production, we could see the characters' onscreen reunion sooner than expected, perhaps in a brief cameo from Johnson. However, this is more likely a reference to Hobbs appearing in Fast 10 in a few years. Either way, we couldn't be more excited. Neither actor is better than when they're onscreen with the other and the prospect of never seeing the two team up again was a grim one. Hopefully we'll see a proper Family reunion soon.
Fast & Furious 9 will come to theaters May 22, 2020.