German Homeopathy Conference Gets Interesting Thanks to Hallucinogens
An LSD-like drug brigs chaos to a celebration of pseudoscience.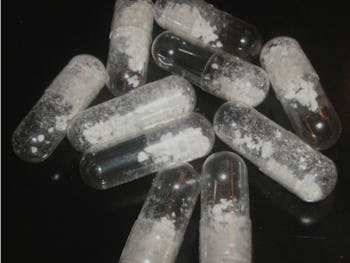 Wikipedia
A German homeopathic conference ended in hallucinogen-fueled madness Monday with more than 29 men and women "staggering around, rolling in a meadow, talking gibberish and suffering severe cramps" according to Northern German Broadcasting
After the hundreds of community responders necessary to restore order had finally secured the scene enough to run blood and urine tests, it was discovered that attendees had taken 2C-E, an LSD-like drug that has been illegal in Germany since 2014.
But it's entirely possible that conference attendants in the town of Handeloh didn't know what they were taking, The Independent reports. That's a bit ironic given the fact that this was a conference about being careful with what you put in your body, but let's roll with it.
"It must have been a multiple overdose. That does not support the view that the people concerned took the hallucinogen knowingly," said Torsten Passie, of the German government's expert commission for narcotics. "One has to assume that people were not told about the substance, its effects and risks before taking it."
Even the homeopathic organization, the Association of German Healing Practitioners (VDH), tried to distance itself with a statement: "The organisers of this obscure conference are unknown to us and such events will not be tolerated by our Association."