10 Best Laptop Stands
Take a laptop from the bed, to the couch, and back down to the floor with these laptop stands.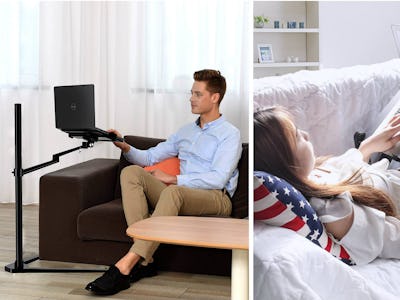 Amazon
Your laptop is your inanimate BFF. You go on trips together, it helps get you through work—heck, you even snuggle in bed and watch movies together.
Wait, are we dating our laptops?
All kidding aside, laptops are just a convenient part of our everyday lives. But billions of years ago, when the atoms split and life evolved us into what is now our humanoid form, laptops weren't a twinkle in the universe's eye. Our bodies were not created to sit at a desk (or a lounge chair or our beds) hunched over a small screen. By doing these repetitive, "harsh" tasks, we're putting our bodies at an ergonomic risk.
Ergonomics is basically a fancy way of saying the study of people in their working environment. More specifically, it is the idea of fitting the work to the worker as a way of reducing repetitive injuries or discomfort. That kink in your neck might not be you sleeping funny, it could be from you looking down at your screen for hours at a time. You need an ergonomic adjustment, and one of the simplest ways to get it is to invest in a laptop stand that fits your needs. So whether you at least sit at a desk with your computer or you find yourself curling up on the couch, there is a stand out there for you to make sure you're doing the least possible damage. To help you get started on getting your ergonomic life in check, we've rounded up some of the most beloved laptops reviewers recommended.
The Lamicall Laptop Riser has a sleek design that can fit in with any modern, minimalistic desk. Suited for laptops that are up to 17 inches, this stand really only works best if you have a wireless keyboard to pair it with. And if you do have one to pair, this stand came recommended at a perfect 5-star rating from over 800 happy customers. over The stand itself raises the screen to eye-level, straightening out your posture. The rod connected to the base also swivels, making your laptop ergonomically accessible from any angle. And don't worry abut your laptop slipping off—it has rubber pads to keep it secure and cooling vents to make sure your laptop doesn't overheat on the close surface. As an added bonus? It's also a pretty nifty way to prop up the laptop for Netflix binges, too.
Constantly on the go between meetings and work travel? This nifty little portable stand is just what the doctor ordered (pretty much literally speaking). The CQTECH Laptop Stand sticks to your laptop with help of special, removable "nano adhesive." The super lightweight leg stands are fully collapsible to make traveling a breeze. While the incline is subtle, it lifts the computer into a more eye-level viewing range and in turn, raises the keyboard to a more wrist-friendly typing position. It's strong enough to hold up to a 17 inch laptop, and as an added bonus, creates a nice airway so your laptop doesn't overheat. It's easy accessibility is perfect for anyone who gets to claim the world as their office.
Perhaps you're already aware of the benefits of standing during a day's work. If not, let us briefly sum it up; since the body was not meant to sit for eight hours at a time, sitting at a desk all day can take its toll. A standing desk helps take the pressure of of a sitting body, helping to keep hips flexible and circulation healthy. This desk-mounted stand helps you easily move from sitting to standing while also remaining ergonomically satisfactory. The stand can either hold a laptop or mount a monitor up to 22 lbs. It easily mounts onto any desk, and has an adjustable arm that offer a 15 degree tilt, 360 degree swivel, 360 degree rotation, and height adjustment. Monitor can be placed in portrait or landscape position. In short this simple stand provides a lot of options in terms of range for extra comfort and stability.
You don't need your stand to win any beauty contests—you need fast and functional ergonomic care. That's where the Nexstand Laptop Stand comes in. The completely portable and functional stand unfolds and holds your laptop at a more suitable eye-level. The stand is a practically universal fit for almost all laptops (11.6 inches or larger). This laptop stand is completely adjustable and offers from 5.5 inches to 12.6 inches of lift, with height adjustment letting you raise screen height to the erfection position for you. This portable stand can also hold the weight of a 22 lb computer, making it perfectly adaptable to any situation.
For the days you literally can't get out of bed… don't. This laptop tray has everything you need to make lounging in bed ergonomic. With two separate trays, this foldable bed laptop stand can elevate to a more comfortable eye level, or hold a book for a late night reading session. It has cooling fans in it to help prevent laptops from overheating, and even has a nifty LED reading lamp for sneaking in a few pages before bed and reducing eye-strain. The legs on this tray are also adjustable to go between 10 inches or 15 inches of height, helping you to take it from the bed to the couch if you are so inclined. It even has storage to help keep any official paper business in order… or you know, to keep snacks handy.
Perhaps you're not one of those people who uses a laptop eight hours a day for work. Even if you just use your laptop in bed to binge-watch Netflix all day, you need an option that is still ergonomically friendly and overall functional. For you, we introduce the Carnation Adjustable Laptop Stand.. This stand is super lightweight (making it great for travel) and can be adjusted into seven different positions. It can hold systems up to 55 pounds. It is optimized for ventilation, so this way your computer doesn't overheat and die on you by the time you hit the third season of your favorite show. The coolest part? It has a swivel base and a designated, retractable phone stand so you can stay connected easily during your favorite show marathon!
Sometimes the work-from-home process calls for movies to be playing in the background. Wouldn't it be nice if we could curl up on the couch and get our sh*t done? With this adjustable table, we can. The tray itself is a lightweight plywood and aluminium based piece, but promises to hold laptops up to 88 lbs. The legs on this baby are able to go up and down, and the tray itself swivels and tilts so this makes for an ergonomic and comfortable viewing experience.
If you need to marry function and style, this bamboo tray is just right for you. Not only is it delightfully pretty, it is super useful whether you and to work on the couch, in bed, or form the comfort of your favorite reading nook. There is an adjustable height tilt for a better viewing/typiing experience and the perfect place to rest a mouse right next to it. It even has a nifty drawer for extra storage. The legs are foldable, making it perfect to tuck away when you're done. Plus, the bamboo style makes it perfect for Instagram, you know, if you're into that sort of thing. #workinghardforthemoney #influencerlife
There are some people that need a smart device with them always. Whether you like to watch a movie while working out in the backyard, have your phone easily accessible as you do house chores, or keep your tablet near you as you cook, this stand is the right one for you. Not only can it securely hold all three of those devices, it adjusts in height so it can go with you from your basement treadmill run to your laying in bed cooldown. The stand rotates at a 360 degree angle, so you can get your device at the perfect eye-level for a comfortable and ergonomically friendly position. When you're done, just collapse it and store!
Do you do your best work laying down? Get your brain out of the gutter—I'm talking about getting super cozy on the couch and banging out that term paper, dude. Well, now you can avoid the hassle of having your computer slip everywhere as you try to balance it on your thighs with this versatile folding stand that can take you easily from couch to desk. Fully adjustable, this stand rotates at 360 degrees and can hold everything from your favorite book to you laptop. It has two cooling fans to prevent overheating. Take it from the couch to the floor to the desk with this design — whatever you gotta do to get the job done.