Cook Up A Delicious Dinner With These Smokeless Indoor Grills
Dinner is right around the corner with these easy-to-use cooking tools.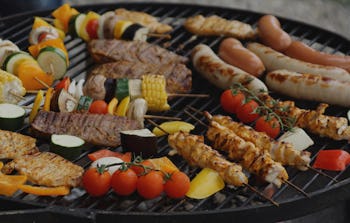 Pexels
Looking to cook up a delicious dinner, but don't want to head outside to fire up the grill for that extra bit of flavor? You don't have to, thanks to smokeless grills. There are a litany of different models out there that can help replicate the flavor of a delicious steak or cut of meat after being roaster over an open fire, but are more perfect for indoor cooking so you don't have to worry about making a mess…or setting off the smoke detector. If you're looking to set up a tasty meal that looks like it was out on the grill all day but took minimal effort, then be sure to check out our picks for the best smokeless grills.
Conserve kitchen space and cook up burgers, chicken breasts, steak, or anything your heart desires with this 60-square inch grill. It holds four servings of proteins, or even veggies if you decide to cook them on this grill. It features removable plates, 33% after heat, and a nonstick coating to keep it easy to clean. The grill is even sloped a bit to help direct fat that cooks down out of the grill into a fat-collecting reservoir. It's super simple to clean and ensures your meal is healthier than ever. Who needs charcoal, anyway?
If you're cooking a large dinner and want to put together plenty of meats to serve everyone, this smokeless indoor grill is where it's at. It's a 5-in-1 model that lets you grill, rotisserie, and make kebabs, fries, and fish. It even includes baskets to fry what you need to, with a stainless steel construction and non-stick grill to ensure your meals are off-the-chain delicious every time. You get a massive 9 x 13 grilling space too, with easy-to-adjust controls that can get you from 150 degrees to 450 degrees Fahrenheit depending on what you need for the perfect feast. There's also a 90-minute timer with auto-shutoff, which can help keep cooking for larger crowds if you need to let things go for a bit unattended.
This low-profile grill is a svelte option that will fit in just about any kitchen while offering a great grill surface to cook on. It heats up quickly to 446 degrees Fahrenheit, and will also ensure food doesn't get cooked in its own grease, as well as separated from fat. It can be cleaned up in less than a minute as well, making it simple to deal with as you clean up the mess left behind. It rocks a powerful 1660 watts for cooking and non-slip feet to keep the grill in place as well. It's a portable powerhouse that you'll want to return to time and time again for exciting weekday meals, and it can handle anything you throw at it.