The Best Pour-Over Coffee Makers
Check out these must-have brewers and upgrade your brew.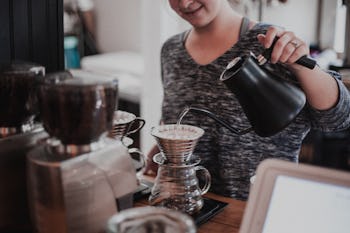 Unsplash / kayla phaneuf
Some of us just can't start our day until we get that much-needed cup o' joe. We can't think straight, we're not fit for conversation, and the idea of "greeting the day" just isn't the same without it. But everyone has their way that they like to not just take their coffee, but make it. While drip coffee makers are pretty common, many people prefer the flavor of pour-over coffee instead. And if this describes you, we've rounded up some of the top pour-over coffee makers you can find on Amazon.
Rather than constantly buying environmentally questionable paper filters, upgrade to this Bodum Pour Over Coffee Maker, which features a permanent filter. The filter is designed with mesh stainless steel for easy cleanup—and to allow the natural aromatic oils in your coffee to strain through into the final product. A stainless steel top is paired with a heat-resistant glass base designed to make and hold up to eight cups of coffee. While we're featuring the 34-ounce option, you can also choose between 17 and 51 ounces. You can also choose between five different styles with varying collar colors to fit your style.
Some coffee makers don't have shelf appeal, but that's not the case with this Chemex Classic Series. The glass filter and carafe are paired with a fashionable wooden handle—making it the ideal centerpiece on your breakfast table or nook. The Chemex pour-over coffee maker can brew up to eight cups of coffee and is also designed to serve as a storage and reheating tool if you don't drink all of your coffee at once. Best of all, the glass is designed not to absorb odors — ensuring that future cups of coffee won't acquire odd flavors through the brewing process. Note that you will need to use paper filters with this pour-over brewer.
Pour-over brewers might be all the rage, but they're not always convenient to use since many of them don't feature handles. But the Coffee Gator Pour Over Brewer features a glass handle, a compact design that's no more than six inches tall—but can still brew 14 ounces of coffee or up to three cups per cycle. This particular brewer also features a removable stainless steel mesh filter, helping to cut down on waste from disposable paper filters. And by using a reusable mesh filter, you won't lose any of the aromatic oils which help to create a more flavorful cup of coffee. Note that you can also purchase Coffee Gator's pour-over brewer in a larger size that brews 27 ounces or five to six cups of coffee per cycle.
When you're the only person in the house who drinks coffee—or you're trying to cut down on your caffeine consumption—it might seem wasteful to buy a brewer that can make more than a cup or two of coffee in a single cycle. In that case, the OXO Brew Single Serve Pour Over Coffee Dripper is a smarter option for you. This dripper is designed to sit directly over your coffee mug so that it brews directly into your cup. While it does use removable filters, OXO's model features an auto-controlled drip to manage the flow of water over the coffee grounds, and a lid that not only maintains the temperature of your hot water but can also double as a drip catcher.
If you have a house full of coffee drinkers, it can often seem like pour-over style coffee brewers aren't designed with you in mind. Many of them are practically single-serve or max out at four of six-cup capacity. But the Melitta pour-over 10-cup coffee brewer features a solid stainless steel carafe to keep your coffee warm for hours. According to reviews, the coffee can stay hot for up to two hours after initial brewing, which is ideal for those of you who sip slowly. Note that you'll need to use their proprietary filters to effectively brew coffee with this brewer.
Coffee Gator makes the cut again, but this time for keeping the busy coffee drinker in mind. If you don't have time to transfer coffee from a carafe to a to-go mug, then you're going to appreciate their pour-over brewer mug. This budget-friendly find features a thermal mug that's designed for use in the car, or on your daily train commute to the office. The secure lid helps to prevent spills, and the sturdy design keeps drinks hot for a minimum of six hours, and cold for at least 20 hours. Best of all, this system comes with a stainless steel mesh filter that is eco-friendly and easy to clean. Choose from seven styles to find the color that works best for you.
One of the biggest drawbacks for pour-over coffee makers is that they're usually not sold as a complete set. And that means that you'll still need to figure out how you're going to make the hot water that you need to brew your coffee. But Dedajk's pour-over coffee maker set solves that dilemma by bundling everything that you need to make the perfect cup of coffee. The kettle can brew up to five cups worth of water, is rust-resistant, and safe for use on most standard stovetops and hot plates. Best of all, the kettle features a built-in thermometer to ensure you're heating your water to the recommended 195 to 205-degrees Fahrenheit. However, note that the carafe can only hold up to two cups of coffee and requires paper filters.
If you're camping or trying to travel light, you know that a traditional coffee brewer isn't a smart option. If space is at a premium in your RV, or backpack, you'll appreciate this Wolecok collapsible pour-over coffee dripper. The drip can be flattened to a half-inch in thickness and attached with a carabiner so that you don't lose it on the trail. When in use, the dripper expands to two and a half inches in height and is made of heat-resistant silicone. While you do need to use this dripper with paper filters, it's a fan favorite with campers who appreciate that it's travel-friendly and easy to use.