Pick Up A Fitbit Alternative on the Cheap to Feed Your Fitness Habits
Track your fitness habits without spending an arm and a leg.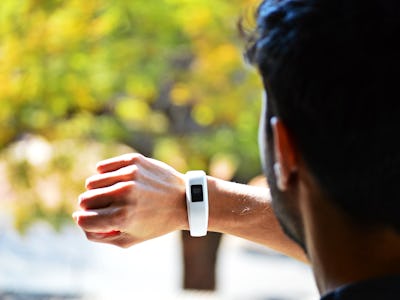 Pixabay
Getting in shape can be tough. Keeping track of all the calories you've burned, steps you've taken, and even your heart rate can be frustrating. That's why so many people turn to activity trackers like Fitbit to keep things straight. Unfortunately, Fitbit's brand of trackers can be a bit expensive. Luckily there are plenty of alternatives out on the market that are perfectly good for the same purposes you might use a "real" Fitbit for.
We've rounded up some of the best ones we could find, all in the name of offering great features similar to Fitbit's line of products that you can get for a pittance. Whether you want phone notifications, a slimline feature, or just reliable tracking, there are options out there for you that you can snag without having to save up.
Similar to Fitbit in style and aesthetic (and also function), this fitness tracker can be had for a fraction of the official product's price. It also comes in over ten different colors to fit your personality, and includes automatic heart rate and sleep monitoring, daily movement tracking that counts your steps, distance, calories, and active minutes, and it even pairs with your phone to function via companion app. This choice will also notify you of incoming phone calls, texts, and messages from social media, which makes it a one-stop-shop to keep you apprised of what's going on outside of your fitness life.
If you love the way Samsung or Apple's watches look but want the functionality of a Fitbit, this sleek option might be up your alley. It's an activity tracker with a GPS connection, and offers heart rate and sleep tracking. It keeps a 24-hour record of your heart rate automatically, and syncs data to a smartphone app. It will also keep data on steps walked, distance traveled, calories burned, and even the path you took to burn said calories. This particular model can even track the menstruation cycle for women, and it's waterproof to boot. Plus, it comes with a stainless steel band that should look fashionable no matter what you accessorize the watch with. It also doubles as a smart watch with notification updates and more. Fitbit has never looked this classy.
This watch is a great dupe for an Apple Watch, and can do basically anything a Fitbit tracker would. It comes with a large color touch screen, for one, that can give you more detailed information than the smaller Fitbit's can. You can check your daily heart rate and calories this way, all without having to open the app up. It also comes with 10 hours of battery life so you can go further between charges. It comes with heart rate and sleep monitoring, a breathing guide, an activity reminder, music controls, call and message notifications, and more. It also includes female health tracking capabilities if you need them. Why reach for a Fitbit when you could have all these awesome features for far less cash? You've got everything you might need right here.