Jumpstart Your Day With These Great Cheap Coffee Makers
Get caffeinated on a budget.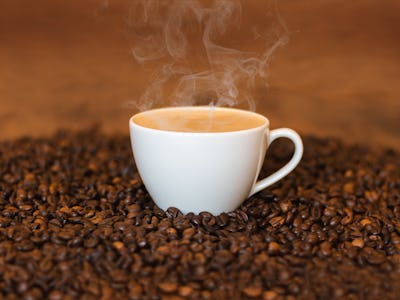 Pexels
If you can't function properly without a great cup of coffee by your side, you might be in the market for a new coffee maker. But let's face it: some can get sort of pricey, and we aren't all living off of millionaires' budgets. In our opinion, to get a great cup of coffee, you don't need anything fancy—just a coffee maker that'll do its job well without you having to spend an arm and a leg. So we've curated a special list of some cheap coffee makers that you can rely on without breaking the bank. Check out our picks to help facilitate you getting that morning cup of joe as quickly and cheaply as possible.
This is truly a no-frills coffee maker, and that means it should be perfect for anything you need it for, whether you want an extra machine in the office or another room in the house. At under $20, this simple coffee maker still has everything you need for a delicious cup of coffee. It comes with an on/off indicator to ensure you know when the machine is working, an auto pause cycle to stop making coffee if you just need to start drinking that one cup before the entire brew is done, a removable filter basket for cleaning, and a stain-resistant warming plate you can clean with ease. Simple and easy, and it's very affordable.
This coffee maker comes with a few bells and whistles above the baseline coffee makers on the market to ensure you have at least a few useful features that can help you get your brew ready when you want it. It can brew up to 12 cups of coffee, but it doesn't need a carafe, as the coffee is held internally. Thus, it holds your coffee and keeps it hot and fresh until you're ready to dispense, one cup at a time. This should make things simple, and cuts down on waste and mess. Most importantly, it's easy to use and programmable, but it also won't break the bank, which is fantastic. It's also very slick!
Cuisinart 12-Cup Programmable Coffeemaker
Getting up early is annoying as it is. Why should you have to worry about starting your coffee and getting it ready to? You don't have to, thanks to this Cuisinart coffee maker. It's fully automatic and features 24-hour programmability. It also includes a 12-cup carafe that will hold your Joe until you're ready to pour. You can set it for 1 to 4 cups, pause brews in between cups, and it also includes a special charcoal water filter to ensure you're getting the freshest coffee you can get. It comes in either black or white as well, which means you can match it to the decor. And as with the other coffee makers on this list, you won't have to spend an arm and a leg to make it yours.