The Best Men's Casual Slide-On Shoes
Whether you work in a corporate office or a more casual setting, you need a shoe that can pull double duty.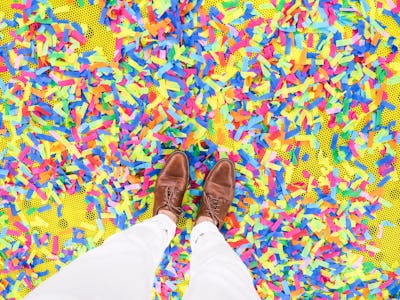 Unsplash / JOSHUA COLEMAN
When you think of casual shoes, what comes to mind? Do you think of flip-flops, sneakers… or some weird cross between the two? We know that men's fashion can feel a tad limiting, but it turns out that footwear is one category where men have just as many options as women. And to prove it, we've rounded up some of the best casual slide-on shoes that'll make getting ready for the day a breeze.
Maybe you're up for a lazy Saturday where you don't have plans to leave the house too much. If so, these Lugz Men's Clipper Sneakers are a must-have for you. They're slip-on, making it easy to slide them on and off, and they look great with a pair of jeans. Plus, the padded lining and breathable insole ensure that you'll be comfortable all day long. Available in 12 colors, so there's something here for every guy.
We're all adults here, and that means that it's time to elevate your flip-flop game. Take your slip-on shoes to a more sophisticated level with these Mio Marino Men's Flip Flops. The memory foam insole ensures that you'll be comfortable all day, and this shoe is also weatherproof and has anti-shock functionality. Meanwhile, the vegan-friendly leather thongs give these shoes the ability to seamlessly transition from the beach to regular wear in-town—or even at a casual bar with friends in the evening. Available in six colors, there's sure to be a hue that works for you.
Sneakers are a part of life, and everyone should own a pair or two… or three. But if you want something that looks more on-trend and less like it belongs on a basketball court, then you're going to want to snag a pair of the Olukai Men's Nohea Moku sneakers. While they look like sneakers, these are designed to be slip-on, and the stylish design means you can wear these in the office if your dress code is casual. Best of all, these sneakers are all business on the inside, thanks to a gel insole, breathable materials, and a jersey knit-covered footbed that's designed to dry quickly and is removable and washable. Choose from one of 15 colorways.
If you still need a sneaker that's specifically designed for activity, then you can't go wrong with the Nike Benassi Slip-On sneaker. This shoe is designed to provide critical support whether you're on the court, in the gym, or just wearing this shoe for a heavy day of walking. But comfort meets style with the sleek suede wrap-around design, and it's available in six colorways.
Slip-on shoes don't have to be limited to casual affairs. If it's time to take your partner out for a night on the town, you're going to need something more elevated than a pair of flip-flops or on-trend sneakers. These Go Tour Men's Penny Loafers take a classic style and bring it forward with a fresh approach. The sleek loafer is offered in a sleek calfskin leather suede. But they're still designed with comfort in mind, featuring a non-slip sole that provides shock absorption. This loafer is breathable, waterproof, and comes in five shades, all of which feature Italian stitching.
Finally, you need a solid slip-on that can be your "go-to" shoe for the office. Whether the dress code is business casual or professional, you can't go wrong with these Jousen Men's Slip-On Loafers. This low-profile shoe features a memory foam insole, making it ideal if you're on your feet most of the day. The breathable shoe also offers anti-slip soles and shock protection for your ankles. Best of all, this stylish shoe is a great budget find that won't break the bank. And at this price, you can pick up more than one of the 11 available colors to help round out your shoe closet.