Best iPhone Car Mounts
iPhone car mounts for every taste preference.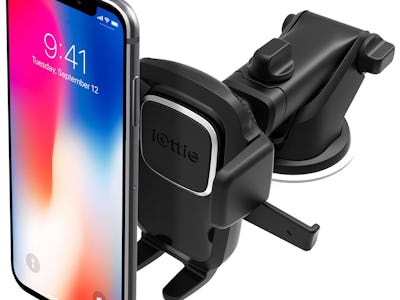 amazon 
When you're behind the wheel, safety should be your primary concern. Clearly, holding your phone to send text messages or checking out your bestie's latest social media post doesn't fall under the category of safe. But we do often use our phones often when driving safely—with Google Maps and Waze. For those who don't have a dedicated GPS system, a car mount for the phone is a great option. We've done some digging and found the best iPhone car mounts for your consideration.
Beam electronics universal car mount is a customer favorite at a very affordable price point. The universal design can accommodate most cell phones, including the latest iPhone models. The Beam car mount fits easily into your car vent. The mount can be used without removing your phone case and there is a quick-release button so there's no fumbling when you're running late.
If you prefer something a bit more affixed you may want to take a look at the Ottie Easy One Touch. Like many phone car mounts, the Ottie is universally compatible, but unlike our previous entry, it is mounted with suction, no tools required. The easy one-touch system allows you to mount and remove your smartphone with one hand and the telescoping arm allows you to adjust your phone for better viewing.
The Tech Matte MagGrip is also vent mounted but unobtrusive and far less bulky. The TechMatte is different from other car mounts because it doesn't mount with a cradle but with a magnet. No need to worry because a MagGrip plate is included. The MagGrip plate can be easily slipped into your phone case and just like that you're business. No fixing or adjusting phones into cradles you just stick it on and go. I've used this myself and thought it was great. The magnet is quite strong, no need to worry about that pothole you missed.
Cupholder phone mounts are another option to keep your hands free and TopGo comes highly rated on Amazon. The TopGo cupholder mount is a great option for folks who either like to keep their phones close within their reach or for those where vent placement would block display screens. The mount is flexible for easy viewing and the base is also adjustable to fit any size cupholder. The TopGo is universal and fits the latest iPhone models as well.