The Best Undershirts For Men
Undershirts still have a place in your wardrobe.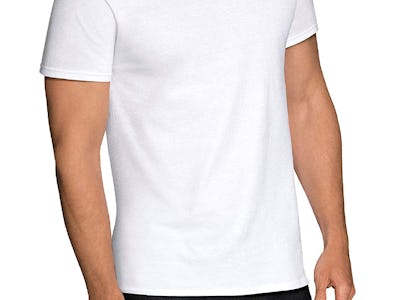 amazon 
The humble undershirt may very well be the unsung hero of your wardrobe. More often than not, they're worn as a base layer to protect your more expensive threads, like dress shirts and jackets, from sweat. Those items can be more expensive to clean—and more expensive to replace. But what makes an undershirt good or bad? The answer to that lies in the fabric and style.
Get that old-school James Dean vibe with one of these. Fruit of the Loom undershirts are an oldy but a goody. They've stood the test of time for good reason. With 100% cotton fabric, stay-tucked styling, and machine washability… who can argue? Not to mention, a six-pack of undershirts that cost less than $20, which certainly makes it easy on your wallet.
The Calvin Klein cotton classic is made from soft, breathable 100% cotton, and offers the wearer superior comfortability. These cotton classics are also tagless, which may be a must for some of us who hate that itchy-back-of-the-neck feeling. Priced under $30, the Calvin Klein cotton classic is great entry for the mid-tier budget.
If sweating through your shirts is your primary concern, Thompson tee sweat-proof undershirts might be exactly what you need. The Thompson tee has fully integrated sweat pads that can provide superior sweat protection—no matter what the temperature is or what your boss is saying to you.
Gildan men's undershirts are made of 100% cotton with cool spire moisture-wicking technology to keep you cool and dry. The tubular roll collar ensures a comfortable, superior stretch and recovery, while the covered shoulder seams ensure that this one will last and stay in your closet for years to come.