The Best Japanese Kitchen Knives
Japanese knives are a beautiful example of how form meets function.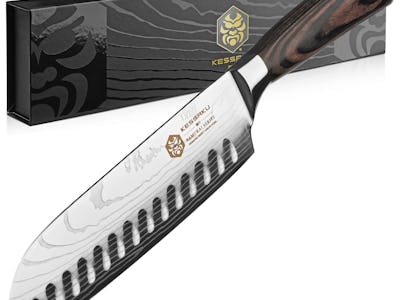 amazon 
Outfitting your kitchen with the right tools can make all the difference in your meal prep—and in the outcome of the meal itself. Whether you're a novice or an expert, you probably know that when it comes to knives, Japanese knives are highly sought after for their superb craftsmanship. While it's one thing to know that Japanese knives are great, there can be a wide variation in affordability and function. So let's take a look at a few Japanese knives that would make great additions to any kitchen.
The Kessaku Santoku knife is highly regarded as the best budget Japanese knife. It is well-balanced and ergonomically designed to reduce hand fatigue. The Pakka wood handle and rust-resistant stainless steel blade will make this your go-to knife for years to come. The Kessaku santoku knife also comes packaged in a beautiful gift box, making this great piece look pricier than it really is.
Japanese knives are mainly associated with stainless steel blades, but Kyocera is changing that with their ceramic revolution series. This is another great introductory price point to the world of Japanese knives, coming in at under $30. For those that like little punches of color in their kitchen the Kyocera would be an ideal choice with nine different color options. Finally, users love ceramic knives because they maintain their sharpness longer than steel, significantly dialing down the maintenance.
The Shun classic knife is the best luxury Japanese knife on our list. The premium blade of the Shun classic has extra tungsten to maintain it's sharp edge and chromium for superior rust and corrosion resistance. The size of the blade on the Shun classic makes it the ideal tool for anything your kitchen throws its way. Whether you're slicing a ribeye or julienning a carrot, the Shun classic has you covered.
If you're looking for something to replace your trusty cleaver, you may want to consider the Damascus chef knife. The blade is forged from high carbon Japanese steel which prevents corrosion and rust, and the fiberglass handle is ergonomically designed for a comfortable grip and superior moisture resistance. The Damascus chef knife can handle your toughest cut of meat or the most delicate veggie on the platter.
The Gyuto chef's knife is a perfect blend of eastern and western sensibilities. While most knives have a dual beveled edge, the Gyuto chef's knife is beveled on one side and flat on the other—and the end result is a sharper knife. The grade of stainless steel used in the Gyuto knife allows it to maintain its sharp edge longer, and it can still be sharpened easily when the time comes. The Rosewood handle is a charming addition to any kitchen. Exceptionally durable, the Gyuto will be a staple in your kitchen for years to come.