The Best Gaming Mouse Under $50
Budget gaming mice are plentiful--but here are the four best options.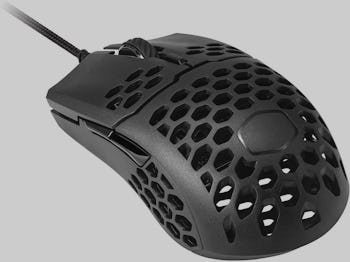 Amazon
Finding the computer mouse that's right for you can prove to be a difficult venture, but it's even more of a challenge when you plan on using the mouse for gaming. While there are plenty of mice aimed at gaming, a lot of them are pricier—and spending over $100 on one can be painful to see if you're on a budget.
Well, if you fall into this category, you're in luck. We're going to show you some of our top picks for best gaming mouse under $50.
If you're not looking for RGB lights and just want a lightweight mouse that's both precise and has a bit of personality to boot, one of Cooler Master's latest additions fits the bill. The MM710 53G is an ultralight mouse thanks to its honeycomb-cut design. This perforated housing makes the mouse as light as it is, coming in at only 53 grams.
The mouse also comes with a gaming-grade PixArt Sensor PMW3389 that's adjustable to 16000 DPI, which is in line with other gaming mice. Other features rounding out the mouse are PTFE mouse feet that provide low-friction glide while gaming, and lightweight wired cable for less fuss.
This is a newer mouse, so it's price sits at the top end of $50.
We started with a new mouse, but now, how about an old one that's incredibly popular? The Razer DeathAdder Elite Gaming Mouse has sold over 10 million units, even boasting so on it's Amazon page.
This is a mouse that basically has it all: RGB lighting, 16000 DPI, 7 programmable buttons—the works. The mechanic switches are ultra-durable and capable of 50 million clicks. The ruggedized and rubberized track wheel is made with precision in mind.
Thanks to Razer's Synapse software, you can taker customization to the next level, allowing you to change the colors on the track wheel and razer logo to virtually any color you'd like and program each of the 7 buttons on the mouse just the way you want it.
Best of all, the DeathAdder Elite usually retails for over $50, but it's on sale now, making even more worth your time.
It should come as no surprise to find Logitech gracing this list. It's responsible for some of the best computer peripherals in the world. As such, the G203 Prodigy is a fantastic gaming mouse for gamers on a budget.
While the Prodigy may only reach a maximum of 8000 DPI compared to some of the more robust, 16000p DPI options, it should still provide ample speed on intense games. It also comes with 6 programmable buttons that you can adjust to your liking, along with RGB lighting that can be changed on the fly with Logitech's provided software.
Gamers on an extreme budget don't have to worry. In fact, this mouse by PICTEK is Amazon's best-selling gaming mouse. After a quick run through of its features, you can see why.
The mouse tops out at 7200 DPI, which may be a turn off for some, even though it should provide a more than adequate gaming experience. The DPI can be adjusted, and the mouse itself has a nifty trick in that the backlit LED will change according to the DPI is set at. You can, of course, adjust the colors of the mouse and reprogram all of the 7 buttons after downloading the software to do so.
Coming in at under $15, this is a mouse that fits into anyone's budget. It's also priced to be the perfect backup mouse, if not your primary one.