The 4 Best Dog GPS Trackers For Your Pet 
Keep tabs on your pupper with these helpful GPS trackers.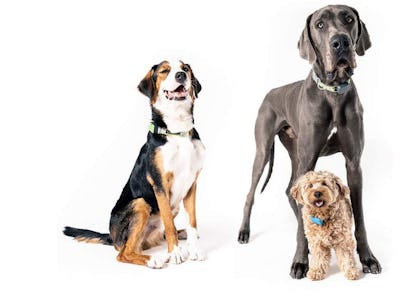 Amazon
For all the doggo parents out there, there is nothing more precious to them than their four-legged children. Keeping them fed, loved, and safe are every pet owner's top priorities. But in order to do that, every pet owner has to take the necessary precautions to keep them that way. This is true for especially adventurous and unruly pups. It's every owner's worst nightmare that in the heat of their excitement, their dogs will run out of the yard and into danger (or worse). To make it easier to keep tabs on them, many pet owners are turning to GPS tracking systems. They are often an inexpensive—and always non-invasive—way to know the location of your furry friend, and sync easily with various mobile devices. If you're thinking of getting one for your pet, consider investing in one of these customer-approved versions.
This lightweight & waterproof GPS tracking device easily attaches to any collar or harness. Working best on pets above nine pounds, this tracker does require a subscription in order to utilize the "live tracking" feature if your dog happens to go missing. The cool thing about it is you can pinpoint the real-time location and share it, so anyone who is nearby can quickly scoop up your pooch. You can even define a 'safe zone" using the "virtual fence" feature and be notified if your pet leaves said area. This tracker is also rechargeable and will reach fuller battery in two hours—and will last your dog 2-5 days.
This device is for anyone who is seriously concerned and interested in what goes on in their dog's daily life. This GPS tracker has proactive pet alerts that work with a corresponding app, email, and/or text where your pup is going—be it on a walk with your dog walker or off on their grand escape. The device has live location tracking abilities thanks to working with AT&T and Google maps. You pet can be quickly located whether he's around the corner or literally thousands of miles away. Heck, with the smart activity detection on this this, you can even get an idea of what their activity was like during the day, from how long they spent playing, napping, or walking. It even helps track your pet's scratching, licking, and sleeping habits (and more), analyzes them, and gives you an idea of any suspicious changes so you can be on top of their health. Pretty cool, considering they can't just tell you when they have a tummy ache. Plus, this easy on-collar tracker can last up to 20 days off of a single charge.
The Findster Duo+ tracker actually doesn't require a subscription. Nevertheless, this real time pet tracker can let you know the location of your pooch pretty much everywhere—even if they somehow end up somewhere off the grid since it is not dependent on cell service. During your walk with your pup, simply define a "safe area" for your pet's location, and you can be immediately notified if they leave that space. Thanks to our MAZE technology, no SIM card or cell coverage are needed! It's waterproof and shock resistant, and can last up to 12 hrs if the GPS is consistently left on.
Perhaps you're just looking for a little more security and not all out surveillance. This simple dog collar is just the ticket. Using the accompanying app, walk around and trace safety zones around all of your pups usual haunts (like the backyard or dog park) and get instant alerts if he leaves those limits. This does require at least 2G service to be in use. It always has a "two way" audio, so you can hear your pup and your pup can hear you, so you can both rest assured the other is safe and sound. The collar itself is water resistant and can definitely survive a dog's quick dip.