The Best Mattress Toppers Under $100 On Amazon
Another layer on your bed can dramatically increase your comfort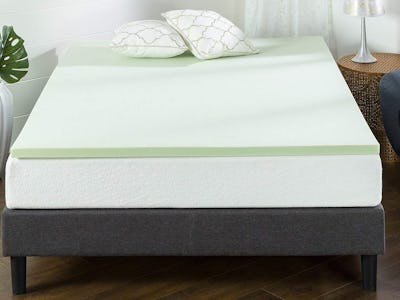 Amazon
Mattress toppers are a good alternative if your mattress isn't quite right, but you want a far cheaper alternative to buying a new mattress. You can select a mattress topper to add a layer of softness, cooling power, or support to your bed.
Unlike mattress pads, which are just designed to protect your mattress, a mattress topper increases the bed's comfort factor.
We've found some king-size mattress toppers for you to consider, and all are under $100. If you have a smaller mattress, these toppers are available in other sizes, too, all for under $100.
Why We Picked It If you want to add some softness to your mattress, the Royal Plush topper provides a two-inch layer of down-alternative fill. The topper shell is made of hypoallergenic microfiber that you can throw into a washing machine. The bands on the four corners will fit mattresses up to 18 inches thick, and keep the topper from shifting position as you sleep.
smWhy We Picked It The Zinus mattress topper is 1 ½ inches deep. The memory foam in this topper is partially made of biofoam, which uses natural plant oils. The topper has natural green tea extract, castor seed oil, and natural active charcoal that will eliminate odors and absorb moisture, keeping your bed and mattress smelling fresh — great for sweaty sleepers.
Why We Picked It The Lucid mattress topper is designed to relieve pressure on your body while you sleep. It has five specialized zones to provide the correct support for different parts of your body, which will help you sleep better and keep you from tossing and turning. The topper is infused with lavender essential oils—lavender promotes a calming atmosphere and may help you sleep better. The topper is also textured to improve its breathability.
Why We Picked It If you're tired of waking up hot, the Karrism mattress topper is designed to give you a cool night's sleep. The topper is made of cotton and allows air to flow effectively to keep you from overheating while you sleep. The topper is 50% thicker than a mattress pad, and the extra padding helps support your shoulders and hips. The stitching design on the mattress top helps keep the down alternative filling in place, and you can even throw it in the washer and dryer without worrying that the filling will bunch up.