The Best Noise-Cancelling Headphones Under $200
Great-sound (without breaking the bank)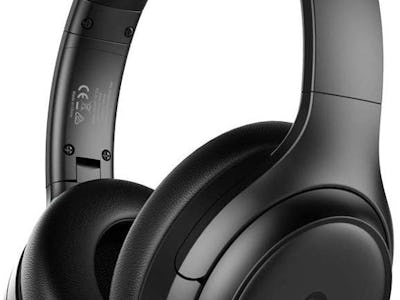 Amazon
It's hard to find a middle ground with headphones. There are countless standard wired headphones, and nearly as many high-end noise canceling Bluetooth headphones. If you're in the market for noise-canceling headphones that won't cost you the near-$400 the best of the best do, keep reading, since we're going to run down five of the absolute best that you can get for under $200.
Cowin E7 Bluetooth headphones are available for a very reasonable price, and you get a lot of features you'd expect in more expensive options. The standard features still apply, too: You'll get deep base, and crisp sound with the E7's active noise cancelling. They also feature a built-in microphone for calls.
Some not-so-standard, or at least, higher-end features you'll find on the E7 headphones are NFC support for painless Bluetooth pairing, and a whopping 30-hour battery life per charge, besting even some of the best-in-class offerings out there. (We're looking at you, Bose.) You also have six color options to choose from, which is a nice touch.
If you have some more wiggle room in your budget and want to go a little higher than what the standard Cowin E7s will bring you, your next stop should be the SE7s.
So what makes the SE7 headphones so much better? Well, according to Cowin, they have improved ANC, which may be enough for some people. The cans ship with Bluetooth 5.0, support the aptX Bluetooth codec, and will give you up to 50 hours on a single charge. You'll also find six different color options to choose from.
Another worthy budget option comes from TaoTronics. These active noise-canceling headphones are on par with what you'll find with the Cowin E7s above. However, what sets them apart is a significantly better design that oozes class and the addition of Bluetooth 5.0—something you need to pay nearly double to get from Cowin on the SE7 headphones.
Another thing that helps set these apart from other cheaper options is its 30-hour battery life and a quick charge support, which is pretty bonkers for headphones at this price. The four color options are simple and subdued, but it's clear that TaoTronics was going sleek and elegant with the styling of these headphones—and they more than achieve their goal.
Just because Sony is currently sitting on the top of the noise-canceling headphones mountain doesn't mean it doesn't offer worthy mid-range options. For ~$130, the WH-CH700N headphones fit the bill.
The WH-CH700N have a robust feature set, including NFC support, Amazon Alexa support, 35 hour playback time, and Quick charge support. Like most of its kind, these digital noise canceling headphones can be used both wirelessly or wired via 3.5mm cable. You'll also be able to take calls with the headphones, as you'd expect, thanks to the built-in microphone.
While we do wish the headphones were a bit more stylish and shipped with active instead of digital noise canceling, there's a lot to love.