Go Adventuring with The Best Travel Backpack for Men (And It's Not Even Pricey)
Set off on the journey of a lifetime with this awesome backpack.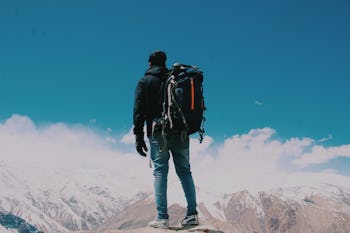 Pexels
Heading out on your next big travel adventure? You should make sure you're nice and prepared. Whether you're going a few states over or planning to head overseas to Japan, you need the very best travel equipment you can get.
That's why we searched high and low for something that could take you from an overnight stay at the in-laws' house to another country. We believe we finally settled on something decidedly awesome, and if you're in the mark for something reliable, this backpack should undoubtedly do the trick.
This durable, anti-theft travel bag is a massive duffel that can work for just about any excursion. It's made of a high-quality water resistant, scratch resistant material that also happens to be difficult to pilfer from. It comes with a massive 10 pockets, with one main zippered area, 3 front zipper pockets, 1 side mesh pocket, 2 small strap pockets, and 3 pockets in the main zippered area.
If you get tired of carrying it on your back like a traditional backpack, you can flip it on its side and use its attached handle to carry it like a duffel bag. That makes it easier to pack, and also get ready for travel if you're pressed for time. That multi-functionality also makes it perfect for use as a carry-on bag.
You can stuff your computer, wallet, clothing, and just about anything else you could need in there with little trouble. Plus, it comes in an attractive black that should go with anything you're wearing along your trek. All of these aspects and its affordability make it the best travel backpack for men, though anyone could feasibly use this pack. It's rugged and nondescript enough for any traveler to strap on and head out with, without fear of looking overly flashy and drawing the attention of pickpockets. Onward, adventurers, and safe travels!