The 6 Best Water Filters For Your Home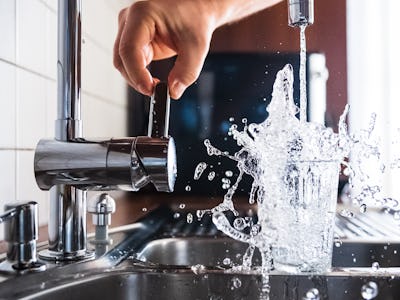 Unsplash / Jacek Dylag
If your home is your castle, then that means every aspect of it should be comfortable, right? But you can't be comfortable if you're super concerned about the quality of the water. The truth is that there are plenty of valid reasons to be concerned about contaminants in the water, from issues like lead and heavy metals to pathogens and debris. Short of running your own water lines from a known safe source, you can opt for a home water filtration system to improve water quality and give you peace of mind. So if you're ready to tackle this problem, you might want to check out these top-rated filtration systems.
If the taste of the water is your primary concern, you may just want an under-sink filter that directly treats the water coming through your kitchen sink, rather than attaching a water filter to your main water line in your basement. The iSpring under sink water filter relies on reverse osmosis technology and can remove up to 99% of over 1,000 contaminants including lead, pathogens, bacteria, heavy metals, mercury, asbestos, fluoride, and other common culprits. What makes the iSpring model unique is that it's a six-stage system that doesn't stop at bringing the pH to 7.0. The sixth step mineralizes the water by making it slightly alkaline for an improved flavor and better health benefits.
If you don't have a full home filtration system, then a filtered showerhead is a great way to ensure that the water you use for bathing isn't just clean, but is softened to prevent skin irritation. The AquaHomeGroup's showerhead has a 15-stage filtration process that not only softens the water to remove harsh chemicals like chlorine, but also infuses it with Vitamins C and E. Additionally, this product comes with bonus gifts, such as five additional shower caps, to help you change the pattern of the flow.
Not everyone wants a water filtration system that produces alkaline water. In that case, a five-step reverse osmosis system like this one from APEC is a smarter option. You'll appreciate that this particular model also comes with a nickel-free brushed faucet head to replace the standard faucet accents you might already have in your home. This high-capacity filtration system can treat up to 50 gallons of water per day, and can guarantee a water flow of between 40 to 85 psi. The system is designed to operate quietly and will remove up to 99% of contaminants including arsenic, chlorine, lead, pathogens, sediment, and viruses.
DuPont is another brand that's known for crafting quality products that are meant to last the test of time. Their whole house filtration system is designed to filter up to 15,000 gallons of water, and is intended for home or commercial use in an office setting. Not only does it improve the taste of your drinking water but it also helps protect against sediment and scaling which can reduce the lifespan of your home or office's appliances. The DuPont filtration system comes with a three-year limited warranty.
For some of us, hard water can dry out or aggravate already sensitive skin—especially for bathing or washing our hair. But if you don't own your own home, installing a whole home filtration system isn't a realistic option. Instead, renters should consider a shower filter like this one from Aquasana. The easy-to-install system offers a long life span of six months or 10,000 gallons of water. A gentle filter designed from coconut shells, carbon, copper, and zinc help to remove harsh additives, heavy metals and other pollutants from your water. Best of all, this filtration system comes with a flexible shower head, making it ideal for giving the kids a bath or easily washing off the family dog.
If you've avoided installing a water filtration system because you assume it's going to be difficult to do or take up too much space, the Frizzlife filtration system will put those fears to rest. The system's tubing is designed to be compatible with both half-inch and three-eighths cold water lines. And much like many of the other filters we've featured, this under-sink system will remove 99.99% of contaminants from your water. Common culprits include heavy metals, lead, chromium 6, chlorine, volatile organic compounds, mercury, and rust—as well as other common contaminants.