Best Bluetooth Headphones Under $50
You shouldn't be late with the rent just to afford earbuds.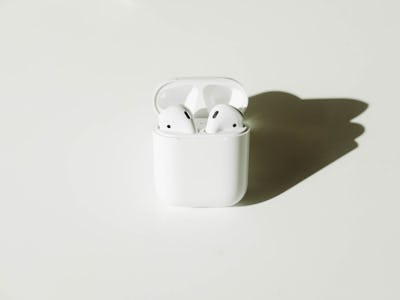 Unsplash / Aaina Sharma
These days, no one wants to be connected by wires. And that's why Bluetooth is such an appealing technology: it gives us the ability to be hand- and wire-free while still being able to hold conversations and listen to music. But not everyone wants to spend crazy money just to say that they have a quality pair of Bluetooth headphones. And we get it, the prices out there can be a little ridiculous. That's why we scoured Amazon to find some of the top-rated Bluetooth headphones that you can buy for less than $50.
If you've been eyeing the pricier AirPods from Apple but your budget just won't allow it, these elegant and less obvious earbuds from Aufo are a great alternative. Available in a sleek black hue, the earbuds come standard with IPX7 waterproof functionality, making them ideal for the gym or a daily commute to the office. In addition to the easy pairing, you'll enjoy rich sound quality and strong bass. When fully charged, you can use these earbuds for three and a half to four hours. But when you use the charging case, you can keep these earbuds charged for up to 32 hours of on-the-go enjoyment.
Not everyone likes earbuds—we get it. For some people, they're just not comfortable. The Avantree over-ear Bluetooth headphones are perfect for giving you that immersive sounds you desire without feeling like there's something stuck in your ear. The lightweight headphones weigh less than half a pound while still delivering quality sound. Use them to listen to music and to make and receive calls thanks to the built-in mic. An adjustable headband, swivel ears, and cushioned cups make these very comfortable to wear. And when it's time to put your headphones away, simply fold them and store them in the accompanying travel pouch.
For runners, traditional earbuds can be risky. Whether you're concerned that sweat will make them slip, or that intense activity might jar them loose, the fear of losing an earbud can make you think twice about purchasing them. But these iTeknic wireless sport earphones eliminate that problem. While they aren't wired to your devices, they are connected through a lightweight wire that you wear behind your head to keep your earbuds safe. Beyond design, you'll enjoy premium sound quality, IPX7 waterproof functionality, and up to 24 hours of playback and talk time with a single two-hour charge.
Wireless earbuds fans shouldn't despair just because AirPods might be out of reach financially. The Bluedio Bluetooth 5.0 wireless earbuds are another faithful alternative that features a similar design scheme to the popular Apple versions while in black for a more low profile and sophisticated effect. The Bluetooth 5.0 connectivity means that pairing your earbuds with your device will be a breeze. But most interesting is the motion-sensing technology that allows you to control music playback by simply removing your right earbud. The Bluedio earbuds are designed to provide up to five hours of playback or talk time per one-hour charge, and the accompanying charge case can charge the earbuds up to four times before it needs to be recharged.
Earbuds are cool unless they're always slipping out of your ears. If you love the idea of earbuds but want something more secure, the Otium Bluetooth headphones are a great option. In addition to the sleek earbud design you prefer, these also feature an over-ear hook to keep them securely in place. A single charge will provide up to eight hours of playback and talk time. And these earbuds will pair well with iOS and Android devices. The headphones also have a range of 30 feet for open spaces and 10 feet if there are objects in the way. Available in four colors, you're sure to find a color that compliments your style.
A Perfect Wired-Mode-Optional Set
Sometimes you want to entirely block out the world with a great pair of over-ear headphones. If this sounds like you, the WorWoder over-ear Bluetooth headphones are a smart option. Powerful stereo hi-fi sound combines with soft ear cups and an ergonomic design for a comfortable wearing and listening experience. These headphones also feature a built-in mic so that you can make and receive calls. Best of all, the WordWoder headphones come with a 3.5mm cable so that you can switch to a wired mode if necessary. Choose from five colors to find your perfect look.
In-ears with ear hooks are a great choice, and we have yet another option. This time Nemrent is featuring their version of wireless in-ear headphones with an ear hook for a secure fit. The waterproof headphones are ideal for use while exercising. And just like many of the other models we've outlined, the Nemrent headphones also feature a rich immersive sound, control buttons for playback, accepting and ending calls. You'll also enjoy long battery life with these headphones. You'll get up to six hours of talk time or seven to eight hours of music playback on a single charge.