The Best Budget Computer Speakers
Budget speakers can still deliver good sound.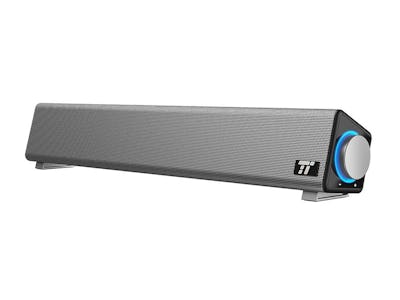 amazon 
So let's be honest: your built-in computer speakers aren't doing you any favors. Sure, they technically produce sound, allow you to FaceTime your BFF, and hear what's being said in that endless stream of YouTube videos in your queue… but you have to admit that's kinda it. When you really want to feel the bass in your favorite song, your computer just can't deliver. Generally speaking, speakers of any kind are a pricey proposition, but we've found some great options that won't break the bank.
Logitech Z313 amps up the user experience with a subwoofer and distortion-free sound. All parts of the system are compact, and the satellites can sit unobtrusively on any desk. What makes the z313 even more attractive is the control pod, which allows for easy volume changes.
The Sanyun SW102 offers great sound quality for the price, and super sleek design. This Sanyun is quite a decent bang for your buck: don't let the small size fool you, these speakers deliver acoustic-quality sound—without taking over your desk. Its 360 design outputs sound in every direction, giving you a great listening experience.
When it comes to speakers of any kind, Bose is pretty much a household name—any audiophile will tell you that. So while these Companion speakers might be at the top of the budget list, it still squeezes in under $100. The Bose companion delivers high-quality sound at any volume. Volume controls and headphone jacks are conveniently located on the unit itself, and crisp, clear sound is delivered directly from the speaker units themselves.
If you're looking for a more streamlined speaker set-up, these Tao Tronics slim speakers offer impressive sound quality at a budget price point. The Taotronics speakers are compatible with any device, and set-up is as easy as plugging into a USB port.
These Pebble speakers by Creative are the most unique-looking. Inspired by Japanese rock gardens, the Pebble speakers are aesthetically pleasing in any room. The elegant design of the speakers also contributes to the sound experience: forty-five degree elevated drivers contribute to the sound projection, and front-facing controls add to the convenience.