3 Of The Best Portable Washing Machines 2019
Tired of making laundromat trips? These portable machines will solve all your laundry woes.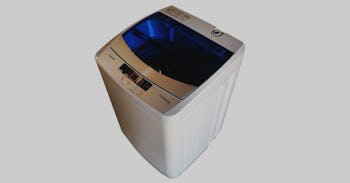 Amazon
Ask any New Yorker, and they'll tell you the bane of their existence (besides the subway) has to be laundry day. Roughly nine times out of ten, the closet New Yorkers call a one-bedroom apartment will not have a washing machine of its own. Heck, they probably don't even have a communal one in the building. For those of us who loathe spending Sundays at a laundromat, investing ina portable washer is money well spent. With a few hookups to a water source in your home, you can have freshly laundered clothes without leaving your apartment. Here are a few of the best, most highly-rated portable washing machines around.
Though it may not be much to look at, this portable washer can certainly get the job done. There are three control switches on the panel part: wash timer, wash selector, and spin timer to make sure laundry is done exactly to your liking. You can use the two tubs in tandem for a load, or wash separately as needed. The regular tub washing capacity is nine pounds, meaning you can do light laundry at home on a weekly or biweekly basis and never pay the laundromat again.
Perfect for apartments, RVs, or motor homes, this portable washing machine is designed to save your space. Connecting the device to a standard faucet, this washing machine can wash up to 11 pounds of laundry at a time. The machine itself has electronic controls with LED display, 10 washing programs, and eight water levels to choose from. It also has a stainless steel drum for extra durability to resist rust and chipping.
Amass an immense amount of laundry? It might pay for you to go a smidgen bigger. This portable washing machine can do two separate loads simultaneously, and can hold up to 20 lbs of laundry. Another added bonus is that since it hooks up as-needed, it can save a ton on energy costs as well! It even has separate time settings, so you can give your clothes, sheets, or whatever you need washed the exact right kind of care they need.