The 5 Best Male Strokers
Why should the ladies have all the fun?
by Maria Del Russo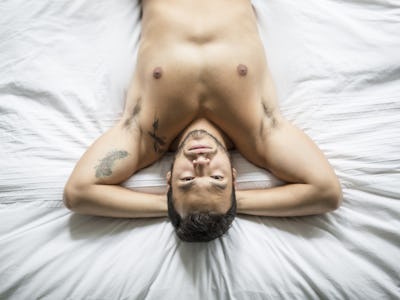 pololia/fotolia
Considering the popularity of vagina-focused masturbation toys, it's hard to believe that there's still something of a taboo surrounding penis-oriented masturbation toys, like pocket pussies and masturbation cups. Most of these toys fall under the "stroker" umbrella, and if you've never tried one before, boy, are you in for a treat. Plus, you can find an unparalleled selection of the best male strokers right on Amazon, whether you're looking for a lifelike pocket pussy or a high-tech masturbator that vibrates, thrusts, and moans.
Before shopping for a penis stroker, though, there are a few things to keep in mind. First, you want to make sure your toy is made of body-safe plastic or silicone for quality purposes. If your toy is made of silicone, avoid using a silicone-based lube: it sounds counterintuitive, but using silicone lube with a silicone toy can cause the toy to break down, which makes it easier for bacteria and bodily fluids to seep through. And speaking of bacteria, please make sure you're cleaning your toy after every use. Luckily, most of the toys on this list come apart easily for hassle-free cleaning—so you really have no excuse.
With all that in mind, scroll on to discover the best male masturbator toys
Don't let the name fool you: there's nothing dog-like or bestiality-related going on here. Typically, classic male strokers are meant to look (and feel) like vaginas, which is exactly what Tracy's Dog pocket pussy offers. It's made of stretchy, medical-grade TPE material—a type of body-safe plastic—and can accommodate any size penis. To give it a realistic feel, the interior tunnel has a ribbed, 3-D texture that reviewers say "feels like the real thing." Speaking of reviews, this best-selling toy has a high, 4.5-star rating on Amazon, with over 500 five-star reviews. It's also affordable, shipped in a discreet box, and easy to clean.
If love the feeling of blow jobs, this mouth-shaped masturbator cup is going to be right up your alley. The incredibly realistic toy has lips, soft teeth, and even a tongue, and, like the pocket pussy above, it's made of a soft, stretchy skin-like TPE material. The interior tunnel is tight and textured, which adds to its lifelike feel. This is another highly-rated toy—it has almost 700 five-star Amazon reviews. And it only costs $10, which you really can't beat (pun intended).
The issue with most male strokers? You still have to use your wrist to create the, ahem, action. But that isn't the case with this Fondlove electric masturbator cup. Equipped with a strong suction cup that adheres to any firm surface, it's totally electric and thrusts on its own, offering two inches of back-and-forth motion with every pulse. It has five different thrusting patterns, six different speeds, and—making it even more high-tech—it even moans: you can choose from three different female voices. Like the other toys on this list, this electric masturbator cup has a layered, textured tunnel, which helps it feel like a real vagina. If you're looking for some hands-free fun that comes close to the real thing, this is the toy to splurge on.
If you're interested in a vibrating masturbator cup, but don't want to shell out $50+, you can get a toy with a few less bells and whistles for half the price of the Fondlove stroker This masturbator is textured inside to feel like a vagina, and it comes with a removable bullet that you can insert for added, vibrating stimulation. It comes with a strong suction cup base (and a small bottle of bonus lube!), and the whole thing breaks apart for easy cleaning. Reviewers also note that it's shipped in a discreet package.
As one reviewer notes: "Amazing, especially for the cost. Arrived in 2 days with a second set of batteries. Within an hour I had 2 orgasms. This is so realistic, and so easy to clean."
What do you get when you cross a stroker and a cock ring? You get the Utimi masturbator cup. This cup straps around your penis for a bit of added stimulation when you masturbate. It's not shaped like a vagina or a mouth, which is great for people who are looking for a more minimal toy to simply enhance their masturbation sessions. The inside is grooved in a corkscrew-like way, which feels great against your penis as you masturbate, and it vibrates, too—choose from seven different frequencies. Plus, it's shipped in a discreet box, it comes with a small bottle of lube, and it's made of soft, body-safe silicone.