Essentials for Making Your Home *The* Spot for Watching Football This Season
From TVs to trays, here's everything you need to make your man cave the destination every Sunday.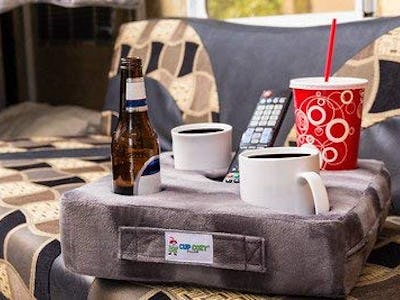 Amazon
For football fans Sundays are sacred and their "man cave" is a place of worship. Waking up, throwing on a jersey, cracking open a beer and going no further than your basement is the ideal way to watch the game. And if you deck out your designated football watching area with the right gear, everyone else will think so too. But what is exactly needed for the ultimate fan experience? In a word: convience. Since no one wants to miss a minute of the game, there are a few things you can put in your space to make it convenient, comfortable, and cool looking. From the best TV deal of 2019 to quirky pillows that are perfect for holding snacks and drinks, here is everything you could need (and a few things you'll just want) to make your home the spot for football Sundays.
First things first: when it comes to making your home a football destination, you have to have the best TV in the biz. This Samsung 4k Smart TV is 82 glorious inches and is perfect for game days both big and small. The best part about this deal is that it is bundled with a killer soundbar and wireless subwoofers for an audio experience that will make you and your fellow football fans feel like you're in the stadium for real.
Now that you've got yourself a killer TV you need a place for everything one to enjoy it from. If you plan on having a lot of people over for a long Sunday of football fun, consider providing super comfy seating outside of your couch. This bean bag sack can totally fit at least two dudes comfortably, and is perfect for the days you are lounging by yourself in your mancave watching war movies (or whatever it is you do). This chair comes in 15 colors (which you can totally coordinate with your team's) and is made out of plush memory foam for extra comfort.
Guests will definitely want a place to rest their snacks during the game—give them a place to do it in style. With these official NFL tray tables, you can show off your home team pride. This set comes with four foldable tables and can be hinged on a stand for easy storage when guests are not present. One suggestion? Don't let anyone seat these directly in front of the — you're just asking for a big ol mess to happen when they stand up to cheer and everything on the table goes flying.
When it comes to making your home the spot to watch football, you have to consider convience above almost all else. Making things like food and drink easily accessible and within range of the TV is essential. Which is why you want to invest in a mini fridge. This one in particular can holder up to 120 cans, and has adjustable shelves so you can also stick bottles of water or extra dio in there.
If you want to play ultimate host, offering more than just beer is a great idea. Next to your mini fridge park a cool looking bar cart and stock it with delicious liquors, glasses and keep the top clear so you have a space to mi cocktails and cut limes.
Football fans love "football food" almost as much as they love the game. Finger foods like wings, tacos, and chips are essential. Serving them on a rotating lazy Susan platter makes it easier for everyone. No matter where folks are sitting they can get access to their favorite snacks without taking their eyes off the big game.
This pillow might seem like a frivolous purchase, but if you're limited on table space, this cozy pillow is exactly what you need. People can safely leave their drinks on the couch or the floor since they are tucked into nifty cup holders. Plus, it has slots for every kind of drink, from coffee to Coca-Cola.
The real point of having everyone over for football Sunday (besides the game) is comradery. Make it a fun and inviting space by having games around people can fiddle with between plays. A tabletop pong game is the perfect kind of distraction. With smaller cups (let's face it, we aren't frat-level pongers anymore) and a nifty tether to keep the ball off the floor, this miniature game can fit almost anywhere in your man cave.