Ynés Mexía: Legendary Mexican Botanist, Late Bloomer, Discovered This Flower
Mexía's story is remarkable, especially considering the era in which it occurred.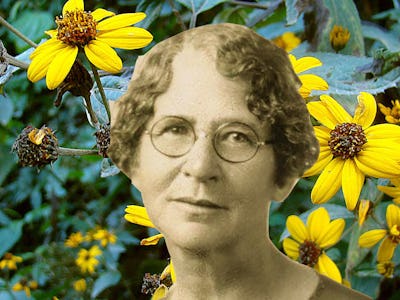 Inverse photo illustration
In the western Mexican state of Jalisco, home to the city of Guadalajara, blooms a flower in the daisy family scientifically known today as Lasianthaea macrocephala. But when it was discovered in 1928, it was named for the woman who came to botany late and would discover hundreds of plants in her home country and beyond. It was dubbed Zexmenia mexiae, after the pioneering woman who collected it, Ynés Mexía.
Mexía on Sunday was honored with a Google Doodle, a vintage-inspired graphic design by LA-based artist Loris Lora, in honor of Hispanic Heritage Month.
It was also on this day in 1925 when Mexía ventured to the Chiles-Cerro Negro volcanic complex, on the border of Colombia and Ecuador, where she collected some 500 plant specimens, 50 of them undiscovered by the scientific community. She fell off a cliff, broke some ribs and fractured her hand, but remembered the expedition this way: "We started on the long journey back; very tired, very hot, very dirty, but very happy."
Mexía's story is remarkable, especially considering the era in which it occurred. Born in 1870, she was the daughter of a Mexican diplomat, grew up to have two marriages, and then in the 1920s, well into middle age, she joined the Sierra Club in the San Francisco Bay Area.
Although she died in 1938 at the age of 68 — she fell ill after a collecting trip; another source points to lung cancer as the underlying cause — her impact on the botanical world was profound in the last 18 years of her life. The California Academy of Sciences writes that she is credited with collecting some 150,000 species of plants in her life on collecting trips to Alaska, Mexico, Brazil, Peru, Ecuador, Chile, and Argentina. Today, her plant specimens are stored at institutions all over the world, from Paris to Chicago to Boston to Zurich. She also lectured to students on botany.
A 2005 biography of Mexía, by Durlynn Anema, Ynes Mexía: Botanist and Adventurer, describes her second act like this:
Stuck in an unhappy marriage and living on a ranch in Mexico, her father's home country, she suffered a nervous breakdown. Sent to San Francisco for treatment, Mexía was quickly draw into the budding environmentalist movement there, joining the Save-the-Redwoods League and the fledgling Sierra Club. Regaining the American citizenship she had given up as a young woman, she left her old life behind and threw herself into the study of botany. She embarked on a series of expeditions, often accompanied only by native guides, traveling the wilds of South America and Mexico well into her senior years. A prolific collector, Mexía's legacy remains important today. Her story traces the journey of a shy young girl from a stilted but conformist lifestyle to one full of adventure and groundbreaking achievement.
The flower she discovered that was named after her — Zexmenia mexiae — is pictured below:
Pictured below is the Lasianthaea fruticosa, which is the family of plants as the daisy above that was named after Mexía: